The Boston Bruins are back on the ice this week with on-ice training camp practices scheduled to begin Thursday at Warrior Ice Arena.
It was a long offseason for the B's -- far longer than anyone expected going into the 2023 Stanley Cup Playoffs when the team had just set NHL records with 65 wins and 135 points in the regular season. A stunning first-round playoff loss to the Florida Panthers set the stage for an eventful summer that saw several key players exit, including captain Patrice Bergeron and David Krejci.
Despite the roster turnover, a good chunk of the lineup should be pretty much set, barring unforeseen developments such as injuries. The blue line is pretty straightforward. The following combinations are likely to be used on Opening Night:
Matt Grzelcyk--Charlie McAvoy
Hampus Lindholm--Brandon Carlo
Derek Forbort--Kevin Shattenkirk
The goaltending is also set. The Bruins re-signed Jeremy Swayman and didn't trade reigning Vezina Trophy winner Linus Ullmark, so that tandem is back for another season. Brandon Bussi was excellent as a rookie for the AHL's Providence Bruins last season, but he likely won't factor into the 2023-24 goalie mix in Boston unless injuries are a factor.
Up front is where the real question marks lie, especially in the bottom six.
Which storylines should Bruins fans keep a close eye on as training camp unfolds? Let's take a look at four of them.
Will Fabian Lysell make the NHL roster?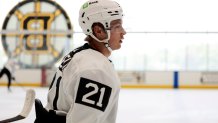 The Bruins will need one of their younger players/prospects to give them a spark offensively because this team lost a lot of scoring firepower over the offseason with the departures of Patrice Bergeron, David Krejci, Taylor Hall, Tyler Bertuzzi and Dmitry Orlov, among others.
Lysell, with his excellent speed, accurate shot and strong playmaking ability, is best suited for what Boston needs up front. The 2022-23 campaign was a roller coaster for Lysell. He started out strong with 19 points in his first 20 games for the P-Bruins, but then he went to the World Junior Championships with Sweden and struggled. His second half in the AHL wasn't too productive, either, and then he suffered a concussion on a dirty hit in the AHL playoffs. Overall, Lysell finished with 37 points (14 goals, 23 assists) in 54 games.
Lysell has a realistic chance of making the team as the second-line right wing. He is a right-handed shot with the offensive skill set needed for that role. It would be a huge responsibility for a 20-year-old with zero NHL experience, but it's at least worth trying early in the regular season if he performs well in camp.
A third-line role for him wouldn't be bad, either. The Bruins could struggle to find offense from the third and fourth lines, so putting a high-end offensive talent like Lysell in that group isn't the worst idea.
"I think everybody coming into camp is trying to make the team and I'm no different," Lysell told reporters in July. "I know last year was really good for me and I think coming into camp this year, I'm really going to put all my energy out there to make that team. I've been doing the camp now two times and I feel like now the third time I'm going to be even more focused and I'm really going to battle out there to take my spot."
New leadership group takes center stage
The Bruins have lost a ton of quality leaders in recent years. Longtime captain and No. 1 defenseman Zdeno Chara left after the 2019-20 season. Tuukka Rask retired following the 2020-21 campaign. Patrice Bergeron and David Krejci both retired this past offseason. Each of those four players spent more than a decade in Boston and were part of a Stanley Cup-winning team (Rask as a backup). That's a lot of leadership ability and institutional knowledge out the door.
A new leadership core will emerge this coming season. The Bruins announced Wednesday that Brad Marchand will be the next captain of the franchise.
Marchand has come a long way since he debuted in the 2009-10 season. He has become an excellent leader and a future Hall of Fame player. Marchand won't be the only veteran relied on to provide leadership, though. Charlie McAvoy and David Pastrnak will wear an "A" as alternate captains. Brandon Carlo and Charlie Coyle are good leaders, too.
Without a Bergeron-type presence in the locker room and on the ice, the Bruins' leadership will be a collective effort.
"Obviously, it's a big honor to be in the leadership group of this organization," Marchand said earlier this month. "When you look at the guys that have been there before, we've always done it collectively as a group.
"So regardless of who wears it, it's a collective thing and even guys without letters step up a lot of times throughout the years. So, again, when you lose Bergy and Krejci, leadership is going to come from a group not from one certain guy or a couple guys. It's got to be from a big collective group, so that's what we're gonna rely on this year."
Which prospects can realistically make the team?
The Bruins signed several veteran players, mostly forwards, during free agency in July. They also added Alex Chiasson and Danton Heinen to professional tryout (PTO) agreements over the last month. Most of these veterans have one-year contracts, so if a prospect deserves to be on the NHL roster there are ways for general manager Don Sweeney to make that happen and still comply with the salary cap.
A couple prospects have a real shot to make the team with a good performance in camp and the preseason.
Lysell is an obvious one, but another Providence Bruins forward who could fill a role is John Beecher. The 2019 first-round pick hasn't developed into a reliable scorer, but he's become a hard-nosed, physical center who can kill penalties and win faceoffs consistently. He also brings impressive size (6-foot-3, 215 pounds) and skates well. These physical traits, plus his two-way skill set, makes Beecher a candidate to win the fourth-line center job.
His competition for that role likely will be Patrick Brown, whom the B's signed in the offseason to a two-year deal.
Georgii Merkulov was one of the best rookies in the AHL last season and led the P-Bruins with 55 points (24 goals, 31 assists) in 67 games. His natural position is center, and he could battle Morgan Geekie and/or Trent Frederic for that spot, although it's more likely Frederic plays on the wing again.
Merkulov has an impressive offensive skill set. His vision is excellent and he's a nifty passer. He can score goals, too. But his defensive game remains a work in progress, and the Bruins have often leaned on their third-line centers to be responsible players in that end of the ice.
Mason Lohrei is one of the Bruins' top two prospects and projects to be a top-four defenseman at some point. A little more AHL experience and playing against tougher, stronger competition than he faced at Ohio State would be good for him. The B's also are pretty set on the left side of the blue line, so there's not really a spot for Lohrei to compete for.
The bottom-six will be full of competition for roster spots
Bruins head coach Jim Montgomery could configure his third and fourth lines in many different ways.
A lot of it depends on which prospects and younger players, if any, play well enough to earn an Opening Night roster spot.
For now, though, here's what the bottom six probably will look like.
Third line: James van Riemsdyk--Morgan Geekie--Jakub Lauko
Fourth line: Milan Lucic--Patrick Brown--A.J. Greer
JVR's spot is likely secure, unless Jesper Boqvist outplays him in camp by a wide margin. The Bruins need someone who can be a force in front of the net with Bertuzzi gone, and van Riemsdyk should be able to bring that type of truculence. Van Riemsdyk also has 20-goal potential.
Alex Chiasson, Danton Heinen, Marc McLaughlin, Georgii Merjulov and Fabian Lysell could all vie for the third-line right wing spot. Several of these players could be options at fourth-line right wing, too. Heinen is versatile enough to play both left and right wing, and he has experience with Montgomery from their University of Denver days. Patrick Brown, as noted above, is the favorite to win the fourth-line center job, although John Beecher could take it from him.
More than half of the bottom-six spots could see a real competition in camp, which should be exciting for a franchise that hasn't incorporated a ton of young talent into its NHL roster in recent years.