The New England Patriots defense has been a bright spot through an otherwise uninspiring first three weeks of the season for the team.
With only 10 points allowed vs. Zach Wilson and the New York Jets, the unit was instrumental in the Patriots' first victory of the campaign on Sunday. But perhaps an even bigger sign that New England's defense is for real was what the Miami Dolphins did to the Denver Broncos.
Miami scored a franchise-record 70 points with nine offensive touchdowns in the historic Week 3 performance. It was the most points scored by an NFL team since Washington put up 72 against the New York Giants in 1966.
Quarterback Tua Tagovailoa completed 23 of his 26 passes for 309 yards and four TDs despite missing one of his top weapons, wide receiver Jaylen Waddle. Running backs De'Von Achane and Raheem Mostert combined for 285 yards and five TDs. Star wideout Tyreek Hill notched nine catches for 157 yards and a TD.
Although the Patriots' defense didn't do enough for a win over the Dolphins last week, it deserves more credit for mostly keeping Miami's elite offense in check. By putting a focus on limiting explosive plays, New England's D held the Dolphins to season lows so far in both points (24) and yards (389) in Week 2.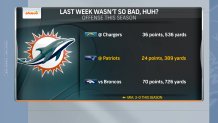 The Pats defense also impressed in the season opener with only one touchdown allowed against Jalen Hurts and the reigning NFC champion Philadelphia Eagles.
Obviously, defense is the least of the Patriots' worries heading into Week 4. Quarterback Mac Jones and Co. need to step it up if New England hopes to build off Sunday's win over New York, and it won't get any easier for them against star linebacker Micah Parsons and the Dallas Cowboys next week.
Next Sunday's Pats-Cowboys showdown is set for 4:25 p.m. ET at AT&T Stadium.