Which former Alabama quarterback would you rather have, Mac Jones or Tua Tagovailoa?
Now AFC East rivals, the ex-teammates are bound to be compared for as long as they coexist in the NFL. Jones was drafted in the first round of the 2021 NFL Draft by the New England Patriots, one year after Tagovailoa was selected fifth overall by the Miami Dolphins.
Tagovailoa has put up bigger numbers since entering the league, but he's had far better weapons at his disposal than Jones. Star wide receivers Tyreek Hill and Jaylen Waddle helped to inflate those numbers last season.
Our Tom E. Curran answered the question of who's the better quarterback -- well, sort of -- during Wednesday's Early Edition.
"They're the same guy. They really are," Curran said. "Somebody said something about Tua being athletic. He's not. He's not any more athletic than Mac Jones. Mac Jones actually throws overhand, he's taller, and those aren't the only reasons he's better. He is a guy who (San Francisco 49ers head coach) Kyle Shanahan wanted to take second overall. They took Trey Lance. You think they'd be happy if they had Mac Jones right now?
"These guys are virtually interchangeable players. Mac Jones in Alabama had a 74.1 completion percentage following Tua, who had like a 68. They are very, very, very similar. So I am gonna have to inject the durability factor because to me, if you can only amass a certain number of starts and the other guy's out there virtually every week, it matters. Who would I take? Tell me what offense we have. I mean, they can't be any closer as players. Tua has a better arm. Mac's is probably more accurate. Mac probably reads defenses better, Tua seems like he might be a better leader."
For what it's worth, the fans took their pick between Jones and Tagovailoa in Wednesday's Early Edition poll. Jones was the victor with 64 percent of the vote.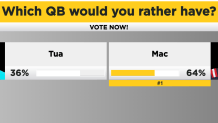 Tagovailoa is 4-0 in his career against the Patriots. Jones and Co. will look to hand him his first loss against New England this Sunday night at Gillette Stadium.
You can watch the full Early Edition discussion below: