BOSTON — The Bus 1 Boys spawned last season when a ragtag group of Boston Celtics rotation hopefuls bonded with a former MVP candidate who joined them on the earliest ride to the arena.
That group — helmed by Blake Griffin but featuring Sam Hauser, Luke Kornet, and Payton Pritchard — had a shared desire to put in early work despite no promise of consistent game time. The group would routinely be photographed entering a road arena together hours before tipoff. They talked about creating a podcast, Kornet might have crafted a theme song, and by season's end, they had Bus 1 Boy hoodies.
But, most importantly, they had each other to navigate the long, windy, and often bumpy road of an NBA season.
Fast forward a year and the Bus 1 Boys find themselves traveling a new lane before the start of the 2023-24 season. The trio of Pritchard, Hauser, and Kornet entered the preseason pegged for spots 7-9 behind Boston's uber-talented top six. But many of their brethren have departed including Mike Muscala, Mfiondu Kabengele, and Blake Griffin who, at least for the moment, has hung up his driver's cap.
So what will become of the Bus 1 Boys?
"We lost a couple of pieces to the Bus 1 but we still have some of the core with me, Payton, Luke," said Hauser. "So we'll keep it running for sure. That bus will never, ever stop."
But players can't help but admit that things will be different. As their roles potentially grow, there's no guarantee that everyone will even stick on the early bus.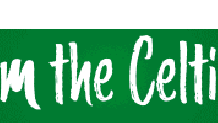 "I don't know if it'll live on; we'll see what buses we're on," said Pritchard, whose pregame shooting time was one of the latest on the board at the start of the preseason. "But that was special. And hopefully we can continue the Bus 1 group as far as, not necessarily the players but like the identity and what it means. Just to stay ready and to show up and get your work in. And, when your moment comes, you're ready for it."
In some ways, last season was all about prepping the Bus 1 Boys for this moment. Griffin showed a younger group of players what it meant to embrace the work and trudge on even when they didn't have their number called. This year, the Celtics need the Bus 1 Boys to contribute.
There's an opportunity to make this year even sweeter than what they had a year ago.
"Every single year is different, every single team is different. Even if you have everybody back from a team the [previous] year, it doesn't mean that's really going to be the same thing," said Kornet. "I think that was a very special group that we had with all those guys.
"… Knowing the teammates that we have this year, it's like you're building new relationships and you're kind of cultivating those. So it'll look something different. As cliche as it kind of is, you appreciate that you had those times and you know that you'll hold that season in a special place."
Promotion from bus boys
For Hauser, Pritchard, and Kornet, the 2022-23 season saw fluctuating playing time and none of those three were ever quite able to truly carve out a consistent spot. But a new season and a new-look roster brings new opportunity.
Pritchard's patience with an overstocked point guard position was rewarded this month when the Celtics signed him to a four-year, $30 million extension. It already looks like a steal.
🔊 Celtics Talk: How can Jeff Van Gundy help the Celtics? | Listen & Subscribe | Watch on YouTube
Pritchard is averaging 21.3 points per game while connecting on 13 of 31 (41.9 percent) 3-point attempts through three preseason games. You could make a case that he's been the MVP of the entire NBA preseason. Pritchard was already in line for a bigger role after Boston moved on from Marcus Smart and Malcolm Brogdon this summer but he looks even more ready to be the No. 3 guard behind the potential starting combo of Jrue Holiday and Derrick White.
Even the new guy can see that.
"He's fun. He can hoop. Just a natural bucket," said All-Star point guard Holiday. "The way that he plays is so easy. It looks like it just comes naturally to him. So always fun to watch him play. But playing with him, he's great to play off of. Obviously the shooter that he is, he can either play off-ball or you play off the ball with him and he has the ball. Very versatile player."
Hauser seemed to be elevating to a rotation piece in his sophomore season last year. He shot the ball well at the start of the season and was a net rating darling, particularly when sharing the floor with star talent like Jayson Tatum.
A couple midseason slumps diminished his role. Hauser still appeared in 80 games but played only 6.9 minutes per game in 15 playoff appearances.
"What I learned from last season is just staying ready," said Hauser. "I think that's kind of been the story for the last two years, just being ready. Some guys are hurt some nights, you've got to play some more minutes. Some nights you're not going to play. Sometimes you may get in for three or four minutes and that's it.
"I feel like I've kind of seen a lot through these last couple of years with fluctuating minutes so, for this year, just be a consistent rotation player. I think I put in a lot of good work this offseason to hopefully prove that I'm good enough for that."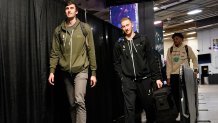 Kornet has been a steady depth big since being traded here in March of 2021. After being a camp cut in October 2021, he re-latched with Boston in February of 2022 and was part of the vibes-gushing bench brigade during Boston's Finals run.
Kornet played in 69 games last season, all in a reserve role, and helped fill minutes whenever Al Horford rested or Robert Williams III was sidelined. The Celtics are banking that newly added Kristaps Porzingis and 37-year-old Horford can stay healthy this season. But that only makes it more imperative that the team finds a reliable third big who can provide steady minutes, particularly if those two need rest nights.
The 7-foot-2 Kornet hasn't exactly cemented his spot at the start of the preseason but his track record suggests he is absolutely capable of filling that depth role.
"I'm at a point where I'll do whatever I have to do to best put myself in the position to be ready," said Kornet. "And that means different things when you're expected to play a lot, or when you're expected to play a little bit.
" … I just keep my eyes and mind on what I actually can control about it and be ready, because I love playing basketball and I love trying to win. And that's like the only reason I play. So nothing really changes in terms of that goal and perspective."
Mazzulla needs to trust the depth options
If Celtics head coach Joe Mazzulla had a blind spot at times last season, it might have been with how he utilized his end-of-the-bench options, including the Bus 1 gang.
Hauser's minutes dipped whenever he slumped. Pritchard spent the season quietly seething at a nonexistent role. Even Grant Williams, who had been a key playoff contributor in 2022, saw his role evaporate late last season.
Mazzulla leaned heavy on his core players, routinely playing the star duo of Tatum and Jaylen Brown heavy minutes in regular-season games. He admitted early in training camp that he needs to reconnect with his depth pieces.
"When I was an assistant, I really did a good job of being aware of like eight through 15 [on the Boston roster]," said Mazzulla. "Like, that was my job. I was on the court with those guys every day and kind of had that sweat equity. Because of my mindset last year, I probably lost touch with eight through 15 and kind of missed and didn't manage some of those relationships as well as I could have, as well as I did as an assistant.
"I think just being on the court every day. You have a tendency as a head coach to get stuck in your office sometimes because you're worried about the next game plan or the next thing like that. But getting back to being on the court early and getting your meetings and stuff out of the way so you can be out there. So that's another reason why I feel a little more comfortable because that's where I was at my best as an assistant was being down there with the guys."
The players, for their part, recognize that they have to play with the sort of consistency that forces Mazzulla to keep them on the floor. But regardless of the ebbs and flows of the season, the players know there's always one thing they can control.
And it gets back to the basic credo of the Bus 1 Boys.
"I hope [to be a rotation piece] but, for me, it's just controlling what I can control and that's showing up every day, getting my work in, and attacking the minutes that I do get," said Pritchard. "So defensively, offensively, whatever that is, that's kind of where my head's at. Whatever I get, I'm gonna go out and play hard, play aggressive and lay it all out."
Any chance of picking up Blake along the ride?
The Celtics will miss Griffin's presence throughout the organization but especially with the end-of-the-roster guys who still marvel at the way he embraced them and talked them up.
"I've vocalized this to a couple of guys on the team: A guy of that stature, coming in when he signed with us, you may think he has some type of like vendetta or ego. And he had none of that," said Hauser. "He was very down to earth, very humble, very aware of his situation and was willing to help anyone.
"And it could have been from the people who make our food every day in the meal room to Jayson. So I think I really appreciated that about him the most, that he was just a great teammate and he was willing to help anyone no matter who it was. He was a great voice to have in our locker room."
So will anyone be reaching out to Griffin in hopes of swaying him into taking one more ride?
"We've let him be, and rightfully so," said Hauser. "Maybe he's taking off the [driver's] hat and giving it to someone else -- most likely Luke -- to drive the bus now. So we'll see. But when we go back to L.A., maybe we'll get him on the bus."
Kornet won't put any pressure on Griffin, either. He doesn't feel like it's his place to sway people's life decisions. But he reaffirms what Hauser said about the experience last season.
"It was a special time with that group," said Kornet.
New recruits? Or upgrading to a new ride?
Two questions linger entering the new season:
1) Will any of Boston's newest additions — like rookie Jordan Walsh, or grit-and-grind workers like Oshae Brissett and Lamar Stevens — join the Bus 1 fun?
2) Would any of last year's Bus 1 guys ever switch to a later bus?
The second part is a prickly subject. As players get deeper into their careers, they tend to carve out later shooting times and don't have to get to the arena quite as early for development work. But it poses an interesting dilemma for Hauser, Kornet, and Pritchard given that, at least for one season, their identities were tied to the early bus.
"Would I ever switch to Bus 2?" Kornet said repeating the question while carefully pondering a response. "Yeah, this is a great question … It would be kind of hard because I think my entire career, basically, I've been on the first bus, for the most part. It'd be a very different thing to be coming to the game with people already being there versus like the nice, completely empty locker room.
"I hope I would get harassed by the crew on Bus 1 if I ever did. And I would accept it if I did."