New Boston Red Sox chief baseball officer Craig Breslow identified three areas of need ahead of the 2024 season: Starting pitching, defensive upgrades, and a right-handed bat.
Starting pitching is the clear No. 1 priority. Once that issue is addressed, Boston needs to find a right-handed bat to balance out the heavy left-handed-hitting lineup. Ideally, the right-handed hitter would kill two birds with one stone by providing above-average defense at second base and/or in the outfield.
A trade might be the best course of action to acquire a player with that description. But if no deals are on the table, there are some decent options in free agency.
Here are the top 10 right-handed hitters on the market, and how they would fit on the current Red Sox roster.
1. Matt Chapman, 3B
Age: 31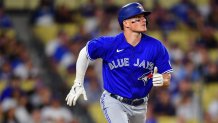 Chapman still has one of the best gloves in the game, but 2023 marked another down offensive season for the former All-Star. In his second season with Toronto, Chapman hit 17 homers with a .755 OPS in 140 games. Not terrible numbers by any stretch, but it's clear he's no longer the slugger he was during his time in Oakland.
Still, Chapman is the clear-cut No. 1 third baseman on the market and will be paid as such.
How's the fit?: Chapman would be a tremendous defensive upgrade over Rafael Devers at third base. If the Red Sox want to make Devers the primary DH, signing Chapman would make sense. That just doesn't seem likely, however, especially one year after Devers signed his massive contract extension.
2. Jeimer Candelario, 1B/3B
Age: 30
Candelario bounced back from a rough 2022 season with an outstanding 2023 spent with the Washington Nationals and Chicago Cubs. Between the two clubs, he slashed .251/.336/.471 with 22 homers and 70 RBIs in 140 games.
Chapman will get the big bucks, but teams can't go wrong with Candelario as an affordable -- and perhaps even more valuable -- option. Unlike Chapman, Candelario also offers some flexibility with his experience at first base.
How's the fit?: Candelario's defensive versatility and his switch-hitting make him an intriguing option for Boston. He's been a better hitter than Chapman in recent seasons and can hold his own as a defender at both corner infield spots. It isn't a seamless fit with Devers at third base and Triston Casas at first, but the Red Sox could make this one work.
3. Lourdes Gurriel Jr., OF
Age: 30
Gurriel was a key contributor to the Diamondbacks' surprise World Series run. In 145 games played last season, he hit .261 with 24 homers and 82 RBIs en route to his first All-Star selection. He's a solid corner outfielder who can bring a boost to any lineup.
How's the fit?: Gurriel would be a rock-solid addition to the Red Sox lineup if the team plans to move Masataka Yoshida from left field to DH. Changes to the outfield seem to be inevitable this offseason, and adding Gurriel to the mix certainly would be considered an upgrade.
4. Teoscar Hernandez, OF
Age: 31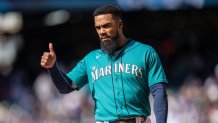 The Seattle Mariners acquired Hernandez from the Blue Jays to add a much-needed slugger to their lineup. The deal didn't work out in their favor as the former All-Star saw his production dip from his days in Toronto. Despite the down year, Hernandez's power should make him one of the most coveted outfielders available.
How's the fit?: Hernandez would add some thump to the Red Sox lineup and serve as an offensive upgrade over Alex Verdugo, but he'd be a massive defensive downgrade in right field.
5. J.D. Martinez, DH
Age: 36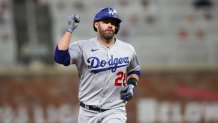 So much for Martinez being washed up. After a rough 2022 season at the plate with the Red Sox, the 2018 World Series champion belted 33 homers with 103 RBIs and a .893 OPS in 113 games as the Los Angeles Dodgers' designated hitter. He's arguably the best right-handed bat available.
How's the fit?: The Red Sox have enough DHs. A Martinez reunion would be fun, especially if he hits like he did with L.A., but it's unlikely given the team's current needs.
6. Mitch Garver, C
Age: 33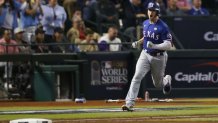 Garver has been plagued by injuries in his career, but he showed what he's capable of when healthy by playing a key role in the Texas Rangers' World Series run. The soon-to-be 33-year-old slashed .270/.370/.500 with 19 homers and 50 RBIs in 87 games during the regular season, then added three homers and 14 RBIs in the playoffs. He should be the most coveted catcher on the market this winter.
How's the fit?: Garver would be a solid catching upgrade over Reese McGuire and Connor Wong, but the Red Sox have bigger needs on their roster.
7. Jorge Soler, DH/OF
Age: 32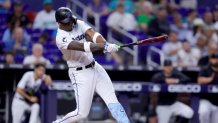 Soler bounced back from an injury-plagued 2022 season to slug 36 homers and drive in 75 RBIs with the Miami Marlins in 2023. He was named an All-Star for the first time and with his power, there's no reason he can't duplicate that effort if he stays healthy.
How's the fit?: While it's fun to envision Soler hitting bombs over the Green Monster, he'd be a defensive liability. For a team looking to upgrade its defense after a dismal 2023, it wouldn't make much sense to add him as anything other than a DH.
8. Rhys Hoskins, 1B/DH
Age: 31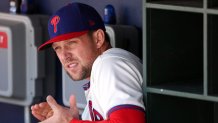 Hoskins spent his entire 2023 season on the injured list due to a torn ACL suffered in spring training. There was chatter about a potential return in the postseason, but the Philadelphia Phillies ultimately decided to keep him off the roster. Still, that encouraging development indicates he'll be ready for spring training, and that should make him the most coveted free-agent first baseman on the market this winter.
In 2022, Hoskins slashed .246/.332/.462 with 30 home runs and 79 RBIs in 156 games played. He's a pretty safe bet for 25+ homers and an OPS above .800. Philadelphia will likely look to retain him, but it will have some competition as plenty of teams should vie for his services.
How's the fit?: The Red Sox have their franchise first baseman in Triston Casas. Hoskins is a good candidate for the 2023 Justin Turner role if Turner signs elsewhere.
9. Justin Turner, 1B/DH
Age: 39
Turner helped Red Sox fans forget about J.D. Martinez in 2023 with a spectacular season as Boston's primary DH. The two-time All-Star hit .276 with 23 homers, a career-high 96 RBIs, and a .800 OPS in 146 games. As great as his bat was for the lineup, he was even more valuable to the clubhouse as a veteran leader. The Red Sox re-signing Turner wouldn't be a surprise.
How's the fit?: Turner was one of the few bright spots for the Red Sox last season and quickly became a leader in the clubhouse. It wouldn't be a surprise to see him re-sign as the team's primary DH in 2024.
10. Whit Merrifield, 2B/OF
Age: 35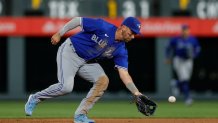 Merrifield earned his third career All-Star nod during a solid 2023 season with the Toronto Blue Jays. He was the club's only Silver Slugger finalist after hitting .272 with 11 home runs and 67 RBIs in 145 games. He also tallied 26 stolen bases.
As a respected veteran, a solid defender who can also play the outfield, and someone who consistently gets on base, Merrifield checks the boxes for what Boston needs to add to its roster. He's the unquestioned top option available in free agency.
How's the fit?: Merrifield won't put up big numbers at the plate, but the veteran's defensive versatility makes him arguably the best fit on this list. He's an above-average defender at second base and in the outfield, and that's exactly what Boston lacked throughout the 2023 season. He hits for contact too, so he wouldn't be a total liability in the lineup. Signing Merrifield to be the team's primary second baseman who can fill in at all three outfield spots when necessary makes a ton of sense.