Starting pitching is undoubtedly priority No. 1 for the Boston Red Sox this upcoming offseason, but second base shouldn't be overlooked.
It was a weak spot for Boston throughout the 2023 campaign, particularly defensively. It also was a revolving door with 12 players splitting duties at the position.
As of now, trade deadline addition Luis Urias projects as the Opening Day second baseman with Pablo Reyes also in the mix. Prospects Ceddanne Rafaela and Enmanuel Valdez are candidates as well, though the preference is likely to have Rafaela display his elite defense in the outfield, and Valdez a below-average defender at best.
So suffice it to say, the Red Sox have a glaring need in the middle of their infield. Unfortunately for them, the free-agent pool of second basemen is shallow. The best course of action may be to pursue a trade to upgrade the position, move Trevor Story back over from shortstop, or sign one of the top utility infielders on the market.
But if they do take a look at the free-agent second basemen, here are the top five options out there.
1. Whit Merrifield
Age: 35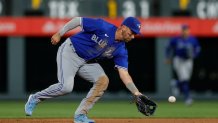 Merrifield earned his third career All-Star nod during a solid 2023 season with the Toronto Blue Jays. He was the club's only Silver Slugger finalist after hitting .272 with 11 home runs and 67 RBIs in 145 games. He also tallied 26 stolen bases.
As a respected veteran, a solid defender who can also play the outfield, and someone who consistently gets on base, Merrifield checks the boxes for what Boston needs to add to its roster. He's the unquestioned top option available in free agency.
2. Adam Frazier
Age: 32
Frazier nearing the top of this list tells you everything you need to know about the state of the position in free agency. It's a barren wasteland. That said, the 2021 All-Star does offer some value.
Last season with Baltimore, Frazier slashed .240/.300/.396 with a career-high 13 homers and 60 RBIs in 141 games played. The real issue was his defense, which according to Fangraphs was abysmal. He finished the 2023 campaign with -15 Outs Above Average (worst among Orioles players) and -4 Defensive Runs Saved (second-worst among O's). Therefore, it seems signing Frazier wouldn't help the Red Sox' current defensive dilemma at second.
3. Donovan Solano
Age: 36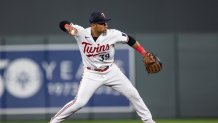 Solano actually spent most of his time at first base with the Twins in 2023 despite primarily playing second base throughout his MLB career. The versatile infielder isn't a strong defender but is coming off a solid offensive season in Minnesota, hitting .282/.369/.391 with five homers in 134 games. Like Frazier, he doesn't project as a fit for Boston given his defensive shortcomings.
4. Kolten Wong
Age: 33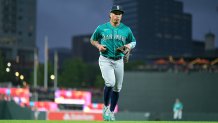 Wong's 2023 was one to forget. The two-time Gold Glover took a noticeable step back defensively and was a liability in the Mariners and Dodgers' lineups, hitting just .183 in 87 games split between the two clubs. He was solid for Milwaukee in 2022, so perhaps he's a candidate for a bounce-back campaign.
5. Tony Kemp
Age: 32
Kemp won't wow anyone with the bat, and his -9 Defensive Runs Saved at second base last season leaves plenty to be desired. However, he can also play left field and his plate discipline is outstanding. He joined Luis Arraez, Ronald Acuña Jr., and Jose Ramirez as the only players with 300+ plate appearances and more walks than strikeouts in 2023. He's also a model citizen off the field with four Roberto Clemente Award nominations.
Honorable mentions: Scott Kingery, Jonathan Schoop, Josh Harrison, Michael Chavis, Cory Spangenberg.