The Boston Red Sox outfield could look much different in 2024.
Adam Duvall is a free agent after one season with the club. Alex Verdugo and Jarren Duran are two of the team's most likely trade candidates. Masataka Yoshida could move into a designated hitter role. Top prospects Ceddanne Rafaela and Wilyer Abreu showed potential at the end of 2023, but they're far from locks to be on the Opening Day roster.
A right-handed hitting outfielder would be the best fit for the current Red Sox roster as Verdugo, Yoshida, Duran, and Abreu each hit from the left side. Left-handed hitting free agents like Cody Bellinger would require a separate move, such as a Verdugo trade, but would be enticing nonetheless.
Here are the top 10 free-agent outfielders for 2024.
1. Cody Bellinger
Age: 28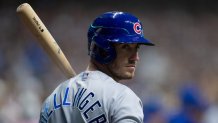 Bellinger is the top position player on the market after an outstanding bounce-back campaign with the Chicago Cubs. The former MVP hit .307 with 26 homers, 97 RBIs, 20 stolen bases, and an .881 OPS in 130 games to earn the National League Comeback Player of the Year award.
2. Jung Hoo Lee
Age: 25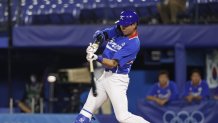 Lee is a star outfielder from Korea whose youth, strong bat-to-ball skills, and above-average defense should attract suitors this offseason. He has posted a career slash line of .340/.407/.491. That should translate to big-league success.
3. Lourdes Gurriel Jr.
Age: 30
Gurriel was a key contributor to the Diamondbacks' surprise World Series run. In 145 games played last season, he hit .261 with 24 homers and 82 RBIs en route to his first All-Star selection. He's a solid corner outfielder who can bring a boost to any lineup.
4. Teoscar Hernandez
Age: 31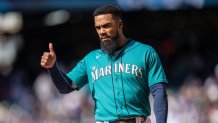 The Seattle Mariners acquired Hernandez from the Blue Jays to add a much-needed slugger to their lineup. The deal didn't work out in their favor as the former All-Star saw his production dip from his days in Toronto. Despite the down year, Hernandez's power should make him one of the most coveted outfielders available.
5. Jorge Soler
Age: 32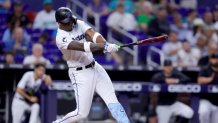 Soler bounced back from an injury-plagued 2022 season to slug 36 homers and drive in 75 RBIs with the Miami Marlins in 2023. He was named an All-Star for the first time and with his power, there's no reason he can't duplicate that effort if he stays healthy.
6. Joc Pederson
Age: 32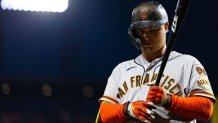 Pederson doesn't offer much defensively but he remains a threat at the plate with his power and plate discipline. His inconsistency can be frustrating at times, but he's a two-time World Series champ for a reason. He tends to step up when it matters the most.
7. Tommy Pham
Age: 36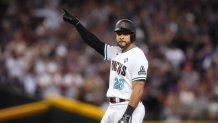 Pederson's archnemesis, Pham can still swing it. The journeyman outfielder helped Arizona clinch a World Series berth with a solid season and playoff run at the plate.
8. Hunter Renfroe
Age: 32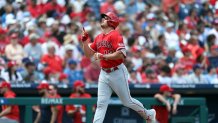 Renfroe is coming off a down season that started with the Los Angeles Angels and ended with a brief stint in Cincinnati. The former Red Sox right fielder should still earn a short-term deal with a club looking for some pop in the middle of its lineup.
9. Michael A. Taylor
Age: 33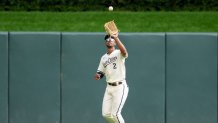 Taylor has never been known for his bat, but his defense in center field makes him an asset to any club regardless of his shortcomings at the plate. The 2019 World Series champion actually posted a career-high 21 homers with a .720 OPS with the Minnesota Twins last season, so he set himself up for a solid payday this winter.
10. Harrison Bader
Age: 29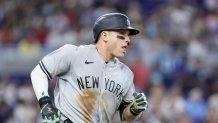 Bader has been plagued by injuries over the last few seasons and hasn't offered much upside at the plate. Still, his speed and above-average defense should be enough to make him a solid low-risk, potentially high-reward signing for a club heading into 2024.
Honorable mentions: Jason Heyward, Andrew McCutchen, Eddie Rosario, Adam Duvall, Kiké Hernández, Michael Brantley, Kevin Kiermaier, Robbie Grossman, Randal Grichuk, Joey Gallo, Jesse Winker, David Peralta.