With Craig Breslow now leading the front office, Boston Red Sox fans will hope the club takes a more aggressive approach during the 2023-24 offseason.
Starting pitching is undoubtedly the No. 1 priority for Boston heading into 2024. With aces like Blake Snell, Yoshinobu Yamamoto, and Aaron Nola available in free agency, there's no excuse to not upgrade the rotation.
There's also two-way superstar Shohei Ohtani, who can't pitch in 2024 but still is set to earn a record-setting contract this winter. He'll be the most coveted player in free agency and it's starting to sound like the Red Sox are serious contenders in the Ohtani sweepstakes.
It isn't the strongest free-agent class, but there are plenty of intriguing options for the Red Sox as they look to escape the American League East cellar in 2024. Here are the top 25 players available.
1. Shohei Ohtani, RHP/DH
Age: 29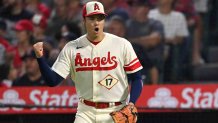 Unfortunately for teams looking for an immediate boost to their starting rotation, Ohtani won't pitch in 2024 due to a torn UCL. Still, he's unquestionably the top free agent set to hit the market and is expected to sign a record-breaking contract. The two-way phenom is a shoo-in to earn his second MVP award after another historic season for the Los Angeles Angels.
The Ohtani sweepstakes will be the No. 1 storyline of the MLB offseason.
2. Blake Snell, LHP
Age: 31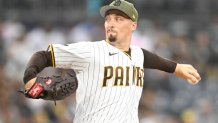 Snell has inserted himself into the NL Cy Young conversation amid a stellar season for the San Diego Padres. The veteran southpaw already has one Cy Young Award under his belt (2018 with the Tampa Bay Rays) and has proven still capable of anchoring a pitching staff.
The one knock on Snell is his inconsistent command. He led the majors with 99 walks, though he set a new career-high in strikeouts with 234.
3. Yoshinobu Yamamoto, RHP
Age: 25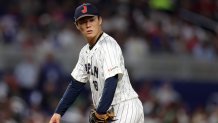 Yamamoto has been posted by the Orix Buffaloes of Japan's Nippon Professional Baseball League, setting up an all-out bidding war for the right-handed ace.
Through 143 innings pitched this season, Yamamoto is 17-6 with a 1.16 ERA, 176 strikeouts, and 28 walks. In his seven-year career, he owns a 75-30 record with a 1.72 ERA and 0.915 WHIP in 967.2 innings.
4. Cody Bellinger, 1B/OF
Age: 28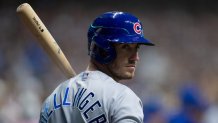 Bellinger is the top position player on the market after an outstanding bounce-back campaign with the Chicago Cubs. The former MVP hit .307 with 26 homers, 97 RBIs, 20 stolen bases, and an .881 OPS in 130 games to earn the National League Comeback Player of the Year award.
5. Sonny Gray, RHP
Age: 34
Gray hasn't exactly been a model of consistency in his 11-year career, but he has been outstanding over the last two seasons with the Minnesota Twins. In 2023, the veteran righty posted his lowest ERA (2.73) and innings pitched total (184) since 2015.
UPDATE (Nov. 27): Gray is heading to the St. Louis Cardinals on a three-year, $75 million contract, The Athletic's Ken Rosenthal reports.
6. Aaron Nola, RHP
Age: 30
Nola has finished top five in Cy Young voting twice in his career, so the ace potential is there. In 2022, he was a big reason why the Philadelphia Phillies were able to make it all the way to the World Series.
But Nola's 2023 campaign has left plenty to be desired. The nine-year veteran amassed a 4.46 ERA through 29 starts. Still, as a true workhorse, his services should be in high demand this offseason.
UPDATE (Nov. 19): Nola has agreed to re-sign with the Phillies on a seven-year contract worth $170-175 million, per USA TODAY's Bob Nightengale.
7. Josh Hader, LHP
Age: 30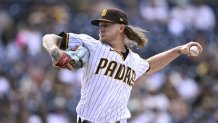 After spending his first six MLB seasons in Milwaukee, Hader was traded to the San Diego Padres ahead of the 2022 deadline. The five-time All-Star struggled mightily immediately after the deal, but he returned to form with the Friars in 2023.
In fact, Hader posted the second-lowest ERA of his career (1.28) and notched 33 saves through 61 appearances. He amassed a 1.10 WHIP with 85 strikeouts and 30 walks in 56.1 innings.
Hader is the unquestioned No. 1 reliever set to hit free agency and should earn a pretty penny as a result.
8. Marcus Stroman, RHP
Age: 32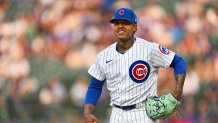 As Cubs president Jed Hoyer put it in his end-of-season press conference, it was "a tale of two seasons" for Stroman in 2023.
Stroman looked like an NL Cy Young candidate in the first half of the campaign, compiling a 2.28 ERA over 98.2 innings and earning a spot on the All-Star squad. Injuries, however, plagued the veteran righty from July on. He had an 8.29 ERA in 38 innings across his final 11 starts.
Despite those struggles, Stroman has a good enough track record to be an attractive option for teams looking for rotation upgrades.
9. Jordan Montgomery, LHP
Age: 31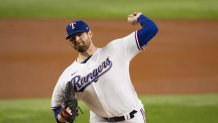 Montgomery isn't an ace, but he's a rock-solid mid-rotation arm who can help stabilize a pitching staff. He was one of the New York Yankees' most consistent starters before they traded him to the St. Louis Cardinals in 2022. He enjoyed similar success in St. Louis before being dealt to the Texas Rangers at the 2023 deadline, then he played a huge role in Texas' World Series run. His price tag only increased in October.
10. Eduardo Rodriguez, LHP
Age: 31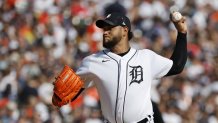 E-Rod is back on the market after opting out of the final year of his contract with the Detroit Tigers. The former Red Sox southpaw posted a 3.30 ERA over 152.2 innings in 2023. He earned a spot in the AL Cy Young conversation before a finger injury forced him to miss more than a month.
UPDATE (Dec. 6): Rodriguez is signing a four-year, $80 million contract with the Arizona Diamondbacks, according to ESPN's Jeff Passan.
11. Matt Chapman, 3B
Age: 31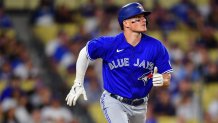 Chapman still has one of the best gloves in the game, but 2023 marked another down offensive season for the former All-Star. In his second season with Toronto, Chapman hit 17 homers with a .755 OPS in 140 games. Not terrible numbers by any stretch, but it's clear he's no longer the slugger he was during his time in Oakland.
Still, Chapman is the clear-cut No. 1 third baseman on the market and will be paid as such.
12. Jeimer Candelario, 1B/3B
Age: 30
Candelario bounced back from a rough 2022 season with an outstanding 2023 spent with the Washington Nationals and Chicago Cubs. Between the two clubs, he slashed .251/.336/.471 with 22 homers and 70 RBIs in 140 games.
Chapman will get the big bucks, but teams can't go wrong with Candelario as an affordable -- and perhaps even more valuable -- option. Unlike Chapman, Candelario also offers some flexibility with his experience at first base.
UPDATE (Dec. 6): Candelario has reached agreement on a three-year, $45 million contract with the Cincinnati Reds, per ESPN's Jeff Passan.
13. Jung Hoo Lee, OF
Age: 25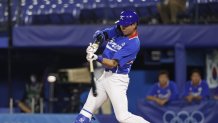 Lee is a star outfielder from Korea whose youth, strong bat-to-ball skills, and above-average defense should attract suitors this offseason. He has posted a career slash line of .340/.407/.491. That should translate to big-league success.
14. Lourdes Gurriel Jr., OF
Age: 30
Gurriel was a key contributor to the Diamondbacks' surprise World Series run. In 145 games played last season, he hit .261 with 24 homers and 82 RBIs en route to his first All-Star selection. He's a solid corner outfielder who can bring a boost to any lineup.
15. Teoscar Hernandez, OF
Age: 31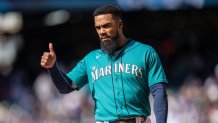 The Seattle Mariners acquired Hernandez from the Blue Jays to add a much-needed slugger to their lineup. The deal didn't work out in their favor as the former All-Star saw his production dip from his days in Toronto. Despite the down year, Hernandez's power should make him one of the most coveted outfielders available.
16. Lucas Giolito, RHP
Age: 29
Giolito's career has been bizarre, to say the least. He was the worst pitcher in baseball during his first full season in 2018 with the Chicago White Sox. He bounced back to earn an All-Star nod and a sixth-place Cy Young Award finish in 2019. That was followed by two more strong seasons in 2020 -- which included a no-hitter -- and 2021. Since then, it's been rough.
Giolito was traded from the White Sox to the Los Angeles Angels at the 2023 trade deadline. The Angels waived him after only six starts, and he was claimed by the Cleveland Guardians. In 33 starts between the three clubs, he posted a 4.88 ERA and 1.31 WHIP.
17. Shota Imanaga, LHP
Age: 30
Imanaga may not be on Yamamoto's level, but the Japanese left-hander started the gold medal game in the 2023 World Baseball Classic for a reason. He went 7-5 with a 2.66 ERA for the Yokohama DeNA BayStars last season while striking out nearly 11 batters per nine innings. He projects as a rock-solid mid-rotation arm in MLB.
18. J.D. Martinez, DH
Age: 36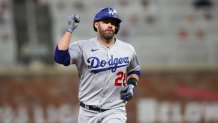 So much for Martinez being washed up. After a rough 2022 season at the plate with the Red Sox, the 2018 World Series champion belted 33 homers with 103 RBIs and a .893 OPS in 113 games as the Los Angeles Dodgers' designated hitter. He's arguably the best right-handed bat available.
19. Mitch Garver, C
Age: 33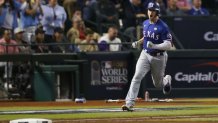 Garver has been plagued by injuries in his career, but he showed what he's capable of when healthy by playing a key role in the Texas Rangers' World Series run. The soon-to-be 33-year-old slashed .270/.370/.500 with 19 homers and 50 RBIs in 87 games during the regular season, then added three homers and 14 RBIs in the playoffs. He should be the most coveted catcher on the market this winter.
20. Jorge Soler, OF
Age: 32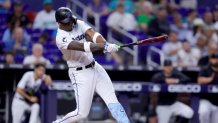 Soler bounced back from an injury-plagued 2022 season to slug 36 homers and drive in 75 RBIs with the Miami Marlins in 2023. He was named an All-Star for the first time and with his power, there's no reason he can't duplicate that effort if he stays healthy.
21. Rhys Hoskins, 1B
Age: 31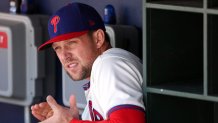 Hoskins spent his entire 2023 season on the injured list due to a torn ACL suffered in spring training. There was chatter about a potential return in the postseason, but the Philadelphia Phillies ultimately decided to keep him off the roster. Still, that encouraging development indicates he'll be ready for spring training, and that should make him the most coveted free-agent first baseman on the market this winter.
In 2022, Hoskins slashed .246/.332/.462 with 30 home runs and 79 RBIs in 156 games played. He's a pretty safe bet for 25+ homers and an OPS above .800. Philadelphia will likely look to retain him, but it will have some competition as plenty of teams should vie for his services.
22. Justin Turner, 1B/DH
Age: 39
Turner helped Red Sox fans forget about J.D. Martinez in 2023 with a spectacular season as Boston's primary DH. The two-time All-Star hit .276 with 23 homers, a career-high 96 RBIs, and a .800 OPS in 146 games. As great as his bat was for the lineup, he was even more valuable to the clubhouse as a veteran leader. The Red Sox re-signing Turner wouldn't be a surprise.
23. Michael Wacha, RHP
Age: 32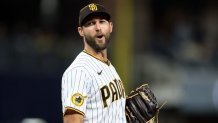 Wacha doubled down on his impressive 2022 season in Boston with another outstanding campaign with the Padres. The veteran righty's 3.22 ERA and 1.16 WHIP were the second-best marks of his 11-year career. Wacha didn't sign until February last offseason, but he should have no problem finding a home after duplicating his success in 2023.
24. Seth Lugo, RHP
Age: 34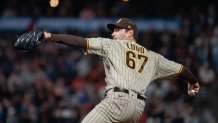 Primarily a reliever before the 2023 season, Lugo started in all 26 of his appearances with the Padres. The results were mostly positive as he finished with a 3.57 ERA and 1.20 WHIP while striking out 140 batters and walking 36 in 26 starts (146.1 innings). He should earn a nice payday this offseason after proving to be a reliable mid-rotation arm.
25. Joc Pederson, OF
Age: 32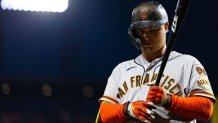 Pederson doesn't offer much defensively but he remains a threat at the plate with his power and plate discipline. His inconsistency can be frustrating at times, but he's a two-time World Series champ for a reason. He tends to step up when it matters the most.