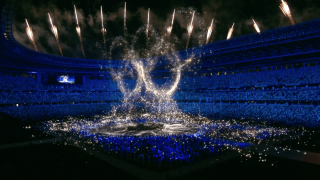 The Tokyo Olympics Closing Ceremony featured several spectacular light displays, each with a special meaning.
After the athletes entered Tokyo's Olympic Stadium for the closing ceremony of the Tokyo Olympics, a light show set the stadium aglow.
Light seemed to dance across the stadium, before coming together to form the recognizable rings in mid-air.
So what was that light show supposed to represent?
What was the meaning behind the light rings display?
The light display was intended to be part of the event's "Moving Forward" theme, and to spotlight the people across the world the Olympics brings together in celebration.
The colors were intended to represent all the countries coming together, while the individual lights were designed to represent the athletes individually, each a "point of light" in the world, according to organizers.
"Together, these lights rise to form a luminous wave — representing the Olympic spirit that lives within us all."
"As these lights take flight across the stadium, we remember the many people whose contribution made the Olympics possible -both near and far, as well as those who could not be here today," organizers said.
The light show was designed by Montreal-based Moment Factory.
What about those fireworks at the end?
According to organizers, the "large, round fireworks form a ring of rainbow bridges that symbolize a united world."