The Boston Bruins began the 2023-24 NHL season with two wins at home, and now it's time for their first extended road trip.
It begins Thursday night against the San Jose Sharks, then continues through the weekend with matchups versus the Los Angeles Kings on Saturday night and the Anaheim Ducks on Sunday night. The trip concludes Tuesday in Chicago for the Bruins' second matchup with the Blackhawks.
For a team that has a lot of new faces on it, going on the road so early in the season should benefit the group.
"To me it's nothing but positives," Bruins head coach Jim Montgomery told reporters Monday. "It's early in the year. These guys have got to get to know each other, have dinner with each other, get to walk around L.A. on the day off together, wherever they choose to go. It's more of a bonding time, and you learn more about yourself as a hockey player, and a team, too, when you're on the road in tough environments."
Here are three storylines to keep an eye on during this four-game road trip.
1. How will Matthew Poitras perform in new role?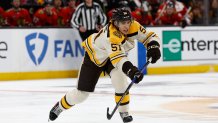 Matthew Poitras was the surprise of camp and earned a spot on the Opening Night roster. His performance on this road trip could play a huge factor in whether the Bruins keep him after the nine-game deadline or send him back to the OHL.
Poitras has played third-line center so far, mostly with Trent Frederic and Morgan Geekie. This trio played fantastic through two games. The B's had a 25-10 edge in shot attempts, a 15-4 advantage in scoring chances and a 1-0 goal differential during that line's 14:34 of 5-on-5 ice time in the first two matchups, per Natural Stat Trick.
Poitras has tallied one assist, eight shot attempts (four on net), seven scoring chances and a 50 percent win rate on faceoffs (7-of-14).
Now it looks like Poitras will take a step up in competition and skate with Brad Marchand -- the best all-around left wing in the sport -- and Geekie. Marchand draws the opposing team's best defensive forwards and defensemen each night, and playing against that level of competition will be a nice test for Poitras.
"The speed and creativity have been evident, and they're going hard to the net, which, I don't care what the makeup is of your line, I don't care if you're a possession line or you're a rush line, you've got to get to the hard areas and you've got to stop there, and I see them doing that," Bruins head coach Jim Montgomery told reporters in San Jose on Wednesday when asked about the Marchand-Poitras-Geekie line.
Geekie's presence on the line is critical. He will do a lot of the dirty work to win puck battles in tough areas, fight hard for positioning in front of the net and take important faceoffs. He's 8-of-11 on draws this season.
"I just like the way he builds a team game," Montgomery said of Geekie on Wednesday. "I especially like how he wins races to the net-front and stays there, takes a lot of punishment. I think he's someone that's going to really help us with our net-front battle and our net-front presence, 5-on-5 and the power play."
Getting a young, inexperienced player like Poitras some reps with all different kinds of players and in different situations will help the Bruins do the best possible evaluation of his game before they must make a final decision on whether he remains in Boston for the full season.
2. Can Bruins ramp up 5-on-5 scoring?
The Bruins scored two 5-on-5 goals in the opener against a bad Blackhawks team playing the second game of a back-to-back. In Saturday's 3-2 win over the Nashville Predators, the B's scored twice on the power play and also on a David Pastrnak penalty shot.
In 83 minutes of 5-on-5 action through two games, the Bruins have scored twice and given up two goals. They've created plenty of good looks, evidenced by the fact the B's have accounted for nearly 60 percent of all shot attempts, shots on net and scoring chances at 5-on-5. There's been a lack of finish, though, and for this team to be a real contender, there has to be more 5-on-5 production offensively.
Of course, the sample size of two games is tiny, so it's obviously too early to draw any major conclusions.
But for a team that lost a lot of offensive firepower in the offseason -- the departing players made up 102 of the team's 301 goals last season -- it'll be interesting to see how this group develops at 5-on-5 with so any new faces up front and returning players skating with different linemates.
3. Great opportunity to bank early points in the standings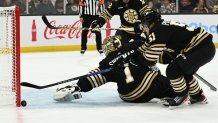 This four-game road trip features a bunch of bad teams.
The Anaheim Ducks had the worst record in the league last season and are 1-1-0 this season with seven goals against. Anaheim is a very young team that projects to be a bottom feeder again this year. The San Jose Sharks had the fourth-worst record in 2022-23 and are 0-2-2 with 12 goals allowed this season. The Blackhawks owned the third-worst record a season ago and the Bruins didn't have too much trouble with them in a 3-1 Opening Night win.
The Kings are a good team with a nice mix of veterans with Stanley Cup rings and young players who have star potential. L.A. always plays a well-structured and heavy game. That matchup should be a battle.
The fight for playoff positioning in the Atlantic Division -- arguably the most competitive in the sport -- and the Eastern Conference as a whole will be brutally tough all season. One or two points could be the difference between making or missing the playoffs, getting home ice in Round 1, or earning the top seed. The Pittsburgh Penguins and Buffalo Sabres both missed the playoffs by one point last season. The Florida Panthers got in by one point and reached the Stanley Cup Final.
Playing a bunch of bad teams early allows the Bruins to rack up plenty of points and build a cushion in the standings, which would come in handy when they inevitably face some adversity later in the season. It's a great opportunity for the B's, but they need to take advantage of it.