It's not often that we get a "big" game in early November, but Thursday night's matchup between the Boston Bruins and Toronto Maple Leafs at TD Garden definitely fits that description.
If you don't believe us, just take a look at what the Leafs are saying about it.
"It's big. Obviously they've had a great start to the season again," Leafs defenseman Morgan Rielly told reporters after Tuesday's game. "...They're a great team, off to a great start. It's a tough building to play in. But it's awesome this time of the year. You want those kinds of challenges, you want those close games and you want to be competitive and play against the best players and teams. We have a chance to do that on Thursday."
On Wednesday, Leafs defenseman Timothy Liljegren called the upcoming showdown in Boston a "huge game." Superstar center Auston Matthews said "it's important."
The truth is these games really do matter.
The Leafs are the Bruins' biggest rival right now, and they have been for several seasons. Some of that is the Montreal Canadiens not having many good teams in the last six or seven years. Boston and Toronto have met in the postseason three times during the last decade, and even though the B's won each time, it took three dramatic Game 7s to finish off the Leafs.
Both teams have a tremendous opportunity to make a statement in this game.
The Bruins are 8-0-1, which represents the longest point streak to start a season in team history. They sit atop the Eastern Conference standings and they are one of only two teams, along with the Vegas Golden Knights, that still hasn't lost in regulation. The B's have allowed only nine goals during 5-on-5 play, they own the No. 1 ranked penalty kill (97.3 percent) and lead the league with a .947 save percentage.
"I think a big part of it -- for the most part their defense is intact, their goaltending has been the best in the league," Leafs head coach Sheldon Keefe told reporters Wednesday. "So right away, that gives you a chance to win every single night.
"But I still think they have a number of really good players, great culture and great leadership, and they haven't missed a beat for those reasons. In some ways it's surprising, but I don't think we should be surprised at the same time because they haven't gone away, and it's a credit to the culture and the leadership that they have there. Their experienced players continue to keep a high standard."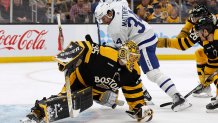 Boston's start has been fantastic, but a little context is important. If you look at the Bruins' schedule through nine games, they've feasted on a lot of bad teams, including two wins over the Blackhawks, along with victories against the San Jose Sharks, Nashville Predators and Anaheim Ducks, etc. They did beat the Detroit Red Wings and Florida Panthers -- two very good opponents -- in their last two games, but overall, Boston's schedule has been soft.
Beating a high-scoring Leafs squad loaded with elite talent in the form of Auston Matthews, Mitch Marner, William Nylander and John Tavares would be an impressive feat for the Bruins when you consider they'll be without two important defensemen in Charlie McAvoy (suspension) and Matt Grzelcyk (upper body injury).
This game also is a chance for the Bruins to see how some of their talented young players, most notably center Matthew Poitras, center John Beecher and defenseman Mason Lohrei, handle what likely will be a physical, playoff-like atmosphere for 60 minutes. This game represents those players' toughest test yet.
A strong argument could be made that this game is even more important to the Leafs.
The Leafs finally won a playoff series last season for the first time since 2004, but their postseason run ended in a quick five-game second round series. The Maple Leafs came into the 2023-24 season with championship expectations, but they've been inconsistent through nine games. They own a 5-3-1 record, good for a fourth-place tie in the Atlantic Division entering Thursday. Toronto has lost back-to-back games, including a lackluster 4-1 defeat to the Los Angeles Kings on Tuesday night.
Going into Boston and beating a nemesis like Bruins could give the Leafs the boost of momentum needed to go on a bit of a run.
"It's pretty apparent they're once again the class of the league, certainly the division," Keefe said of the Bruins. "This is a chance for us to go in and get a response. We've played well in Boston, and a lot of that is because you know what you're in for."