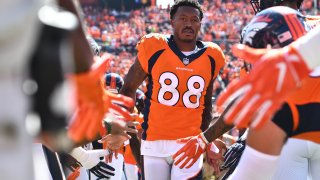 Former NFL wide receiver and 5-time Pro Bowler Demaryius Thomas has died at the age of 33. Thomas was one of the best wide receivers in Denver Broncos history, winning the Super Bowl 50 in 2016.
Thomas most recently played in 2019 for the New York Jets but announced his retirement from football in June 2021. Thomas ended his NFL career with 69 touchdowns, 777 catches and 10,552 total yards of offense.
Thomas was highly respected and well liked around the football world, as evidenced by the outpouring of emotional tributes after news of his death broke.
Many of his Denver Broncos teammates were heartbroken at the news.
Thomas also spent time on the New England Patriots, prompting some involved with the organization to express their sadness -- including Julian Edelman, who Thomas faced twice in the AFC Championship.
Seattle Seahawks quarterback Russell Wilson, who played against Thomas in a Super Bowl, also posted a tribute to Thomas.
Other Denver Broncos greats came out to show their respect for the team's second-leading receiver in yards with 9,055.