The Miami Dolphins' 70-point outburst vs. the Denver Broncos showcased a critical element of the offense the New England Patriots lack: explosiveness.
Miami ball-carriers own the top five fastest speeds reached in the NFL through the first three weeks of the 2023 season. Running back De'Von Achane is No. 1 on the list with a 21.93 mph top speed during his four-TD performance in Week 3. Also in the top five are star wide receiver Tyreek Hill (twice) and running back Raheem Mostert.
🔊 Patriots Talk: Would the Patriots be scared of facing their own offense? | Listen & Subscribe | Watch on YouTube
The Patriots' defense deserves credit for mostly keeping the Dolphins' dynamic offense in check in Week 2. However, Mostert's 43-yard touchdown run proved to be the difference in New England's 24-17 defeat. As our Tom E. Curran puts it, sometimes all it takes is one explosive play, and the Mac Jones-led Pats offense simply hasn't shown it is capable of making any thus far.
"Speed will kill you. And the Patriots, they don't really have it," Curran said on Tuesday's Quick Slants. "Teams can defend them differently because they aren't scared of having someone run past them. ...
"As opposed to the way the Patriots dealt with teams like the Dolphins and Eagles, defenses see the Patriots offense and they say, 'Bring it, Mac.'"
The numbers prove the Patriots offense is in desperate need of a spark. Curran cited a handful of notable Next Gen Stats which show that although Jones has tried to push get the ball downfield, the third-year quarterback's effort has yielded paltry results.
"Mac's aggressiveness percentage, according to Next Gen Stats, it's 16 percent. Pretty high. Ninth in the league. Air yards on his attempts is 8.6. That's 10th-highest in the league," Curran said. "But his air yards on completions is just 4.6, 29th. And that 8.6 to 4.6, that's the biggest differential when comparing attempts against completions.
"So, what's all that mean? What it means is they throw long, they just don't hit those. Like, almost never. The Patriots over the past two weeks are 0-for-10 on throws of over 20 yards. And a lot of those come on third down. ...
"Meanwhile, Evan Lazar of Patriots.com, he noted that Mac is 10th in air yards on third down per attempt, 9.7. He's seeing man coverage on 47.2 percent of third-down throws. He's pressured on 27 percent of his attempts. He's been blitzed 36 times, hurried 20 times."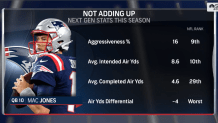 "So basically what's happening is other teams are playing man, they're pressuring Jones, and they're knowing that he's not going to get the time and his players aren't going to uncover. So Mac can only throw to a zip code, which we've seen zip-code throws, not darts. So they play man and bring pressure because the Patriots can't beat them down the field. The rush will get there before somebody breaks free and you just get lobs in the general vicinity of a player."
So, how can the Patriots unlock their downfield passing game to keep up with the explosive offenses across the NFL? Will it get any better over time?
"It has to," Curran said. "How? Protection, maybe, to give the wideout some time to uncover. Tyquan Thornton comes back and miraculously turns into a guy who is durable.
"Nobody's going to get magically faster, though, among the group they have. Precision is everything and they need to attain that to help this offense out."
Jones and the stagnant Patriots offense will face another uphill battle this Sunday against a fearsome Dallas Cowboys defense. Kickoff is set for 4:25 p.m. ET at AT&T Stadium.
You can watch the full episode of Quick Slants below: