A key part of the Boston Celtics' image has always been the floor they play on -- parquet. Thanks to a lumber shortage after World War II, the Celtics looked for ways to cut costs when entering the Basketball Association of America in 1946, resulting in the unique use of a parquet floor, which the Celtics have played every home game on since -- until now.
With the introduction of the NBA's new In-Season Tournament, teams were given new floor designs to represent that the games being played were tournament games. With all courts being the same dual-tone template, with a few individual branding elements throughout, Boston's home court lacked the ever-important parquet.
The Celtics reportedly asked the NBA to add a parquet-painted design in the middle strip but were denied, Steve Bulpett of Heavy Sports reported on Friday night.
The Celtics' new court design, only to be used for In-Season Tournament games, follows the design of their new city edition jersey: primarily green with a tan colored strip through the middle of the court, from hoop to hoop, and a "Boston" wordmark logo at center court. It also features the signature of Red Auerbach and the number 6 in honor of the late Bill Russell.
Russell himself even commented on the importance of the parquet in a 2000 interview with the New York Times.
"It was unique because it looked like no other floor,'' Russell said. "But what was most significant about the floor was that teams found it distracting. And that was all right. It was part of our legend for kicking everybody's butts."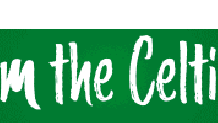 The Celtics kick off their In-Season Tournament run on Friday night against the Brooklyn Nets, a team they have already beaten earlier in the season, in what will be the franchise's first home game in history without the parquet.