The Boston Red Sox seem to be having some trouble finding an experienced front office executive to lead their baseball operations.
A decade ago, this scenario would have seemed unfathomable based on the fact that the Red Sox are a big-market team that likes to spend money. Winning in Boston means more than just about everywhere else in the sport.
But that hasn't stopped several notable candidates in various roles throughout Major League Baseball from turning down interviews with the Red Sox or choosing to remain with their current team.
The list is staggering, frankly.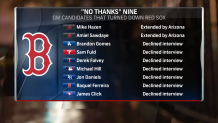 So, what will the Red Sox do?
Well, they have at least given some consideration to an outside-the-box hire. Alex Speier of The Boston Globe reported Friday, citing major league sources, that former Giants and Phillies manager Gabe Kapler has interviewed with the Red Sox "about leading their baseball operations department."
Kapler's only front office experience came from 2014 through 2017 when he was the farm system director for the Los Angeles Dodgers. Most of his MLB experience has been as a player or manager. He played for six teams over 12 seasons from 1998 to 2010, including three-plus seasons with the Red Sox from the middle of 2003 through 2006.
Kapler was the manager of the Philadelphia Phillies in 2018 and 2019. The Phillies failed to make the playoffs in both seasons. He was the manager of the San Francisco Giants from 2020 until he was fired earlier this month. Kapler's Giants finished .500 or worse in three of his four seasons in charge. The 2021 Giants won 107 games but lost in the National League Division Series.
Kapler perhaps could do the job, but the Red Sox tried an inexperience head of baseball ops last time when they hired Chaim Bloom. It didn't work out. The best move would be to bring someone in with more front office experience, a person who has made bold trades and knows what it's like facing the high expectations that come from working in a big market.
Maybe the Red Sox won't have a choice if all of the more experienced candidates turn them down. But they should at least try pursuing all of those candidates before turning to a less-experienced one.