Third base isn't a priority for the Boston Red Sox this offseason, but it still may be worth considering potential options beyond 2024.
Rafael Devers' defense was an issue for most of the 2023 campaign. If that continues next season, the 27-year-old slugger could become a full-time designated hitter in the not-so-distant future.
MORE MLB FREE AGENTS
That said, Devers is far down the list of problems Boston needs to solve this offseason. It's unlikely Craig Breslow and Co. spend much time thinking about the hot corner over the next few months, but if they do, here are the top five third basemen on the market.
1. Matt Chapman
Age: 31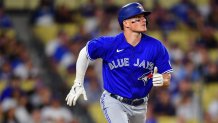 Chapman still has one of the best gloves in the game, but 2023 marked another down offensive season for the former All-Star. In his second season with Toronto, Chapman hit 17 homers with a .755 OPS in 140 games. Not terrible numbers by any stretch, but it's clear he's no longer the slugger he was during his time in Oakland.
Still, Chapman is the clear-cut No. 1 third baseman on the market and will be paid as such.
2. Jeimer Candelario
Age: 30
Candelario bounced back from a rough 2022 season with an outstanding 2023 spent with the Washington Nationals and Chicago Cubs. Between the two clubs, he slashed .251/.336/.471 with 22 homers and 70 RBIs in 140 games.
Chapman will get the big bucks, but teams can't go wrong with Candelario as an affordable -- and perhaps even more valuable -- option. Unlike Chapman, Candelario also offers some flexibility with his experience at first base.
3. Gio Urshela
Age: 32
Urshela's debut season with the Angels was cut short in June due to a pelvic fracture. In his last full season with the Minnesota Twins, the veteran infielder hit .285/.338/.429 with 13 homers and 64 RBIs while providing solid defense at third base. He also has experience at first base and shortstop.
4. Evan Longoria
Age: 38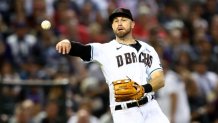 Longoria is nearing the end of his esteemed baseball career, but he still has something left in the tank. The 16-year MLB veteran posted a .717 OPS in 74 games to help the Arizona Diamondbacks clinch a surprising World Series berth and made some nice plays at third base in the process. He isn't the perennial All-Star and MVP talent he once was, but he still has plenty to offer as a bench bat and a clubhouse leader.
5. Josh Donaldson
Age: 38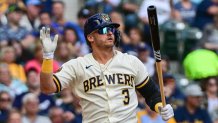 Like Longoria, Donaldson is a shell of his former self at the age of 38. The days of him belting 30+ homers and anchoring a lineup are over. He still has some power, but it's homer or bust at this stage of his career. That should still be enough for him to earn a cheap, short-term contract in free agency.
Honorable mentions: Mike Moustakas, Jean Segura, Eduardo Escobar, Brian Anderson.