The shortstop position was a glaring issue for the Boston Red Sox in their first post-Xander Bogaerts season.
With Trevor Story on the injured list, Kiké Hernández took over as Boston's full-time shortstop to open 2023. That experiment proved disastrous. Hernández made 14 errors before the Red Sox moved him off the position in June. Until Story's return in August, it was a revolving door at shortstop with Pablo Reyes, Yu Chang, Christian Arroyo, David Hamilton, and even Bobby Dalbec splitting time.
Story solved the team's defensive woes at shortstop, but his bat was a disappointment. The soon-to-be 31-year-old hit just .203 with three homers in 43 games.
The Red Sox need Story to start living up to his six-year $140 million contract in 2024. Now that he's finally healthy, he's expected to perform like the two-time All-Star he was in Colorado.
With Story at short, it's unlikely the Red Sox focus on the position in free agency this winter. Still, they may add another middle infielder to the mix, and there's always the possibility that Story shifts back to second base at some point.
Here are the top five free-agent shortstops on the market:
1. Amed Rosario
Age: 28
We're listing Rosario as a shortstop because that's where he's spent most of his career, but there's a good chance he will move over to second base in 2024 and beyond. That's where he spent his time with the Los Angeles Dodgers after the 2023 trade deadline, and he performed far better defensively than he did at shortstop with the Cleveland Guardians.
Rosario doesn't offer much upside at the plate, but he can impact the game with his speed. The former New York Mets top prospect hit eight triples and stole 15 bases last season. He finished with a .263/.305/.378 slash line with six homers and 58 RBIs.
2. Tim Anderson
Age: 30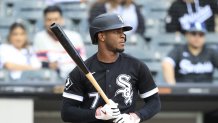 Anderson's stock has plummeted after a terrible 2023 season with the Chicago White Sox. The former American League batting champion hit just .245 with one homer and a .582 OPS in 123 games. Those alarmingly poor numbers came after two consecutive All-Star seasons.
Despite the steep drop-off in production, Anderson should find several teams willing to sign him to a short-term "prove it" deal this winter. His track record is worth taking a flier on.
3. Elvis Andrus
Age: 35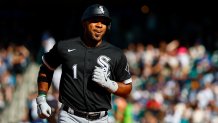 Andrus returns to the open market after inking a one-year deal with the White Sox last offseason. The veteran has spent most of his time at second base in 2023 with Anderson at shortstop, but he's still capable of playing both positions at a high level.
4. Isiah Kiner-Falefa
Age: 29
Kiner-Falefa's value is in his versatility. While he's primarily a shortstop, he played every position last season except first base and catcher. The offense won't get anyone excited, but Kiner-Falefa's defensive prowess should be enough to attract suitors this offseason.
5. Paul DeJong
Age: 30
The St. Louis Cardinals traded DeJong, a former All-Star, to the Toronto Blue Jays at the 2023 deadline. He went just 3-for-44 at the plate in 13 games with Toronto before being designated by assignment. After being picked up by the San Francisco Giants, he went 9-for-49 in 18 games to finish a miserable campaign.
DeJong hasn't offered anything offensively since his 2019 All-Star season, when he belted 30 homers and posted a .762 OPS. He's rock-solid defensively, however. So while another 30-homer season is unlikely, DeJong should still find a home for 2024 with his glove.
Honorable mentions: Brandon Crawford, Nick Ahmed, Yu Chang, Adalberto Mondesi, Didi Gregorius, Tyler Wade.