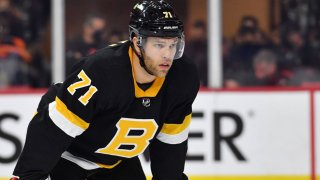 Boston Bruins star Taylor Hall called out the NHL's "old boys' club" atmosphere and stressed the importance of changing the sport's culture in response to the sexual assault investigation involving the Chicago Blackhawks.
Earlier this week, former Blackhawks player Kyle Beach revealed himself as the "John Doe" in court documents related to a lawsuit filed against the team. Beach alleged that former Blackhawks video coach Brad Aldrich sexually assaulted him during the 2010 Stanley Cup Playoffs. 
Law firm Jenner & Block conducted an independent investigation (commissioned by the Blackhawks) of the situation and released its findings this past Tuesday. The firm's report concluded that the Blackhawks failed to appropriately respond to Beach's allegations.
Many players and coaches around the league have reacted to the Blackhawks scandal and the report's findings this week, and some of the most notable comments came from Boston Bruins left winger Taylor Hall.
"Our hearts go out to Kyle Beach," Hall told reporters after Thursday night's loss to the Hurricanes. "We were playing junior at a similar time, and it's just so unfortunate that he had to go through that. We were talking about it last night. Everyone just feels terrible for him and hope that he can get some solace in the end of this."
Hall added: "Every culture needs to keep getting better and hockey's no different. This is a game that's a little bit of, I guess what you would call an old boys' club. There's definitely some secrecy and things that need to change and hopefully they can. You never want to think of an incident like this, positives coming from it because it's been so terrible. But there needs to be changes and unfortunately people need to be held accountable."
The fallout from the investigation into the Blackhawks has included three people (so far) losing their jobs.
Florida Panthers head coach Joel Quenneville, who was behind the bench for the Blackhawks from 2008-09 through 2018-19, resigned from his position Thursday night. His last game as coach of the Panthers came Wednesday versus the Bruins.
Blackhawks senior vice president of hockey operations Al MacIsaac and general manager Stan Bowman also resigned this week.
On Tuesday, the NHL fined the Blackhawks $2 million for "the organization's inadequate internal procedures and insufficient and untimely response in the handling of matters related to former video coach Brad Aldrich's employment with the Club and ultimate departure in 2010."