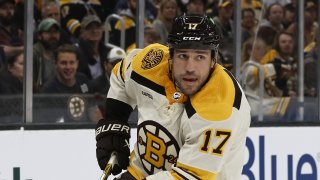 Milan Lucic is taking an indefinite leave of absence from the Boston Bruins.
On Saturday morning, the Bruins released a statement regarding an alleged domestic incident involving Lucic on Friday night:
"The Boston Bruins are aware of the situation involving Milan Lucic Friday evening. Milan is taking an indefinite leave of absence from the team. The organization takes these matters very seriously, and we will work with the Lucic family to provide any support and assistance they may need. We will have no further comment at this time."
According to documents obtained by NBC10 Boston, police responded to a call from a woman that said her husband tried to choke her. As officers arrived, the victim stated her husband was Milan Lucic.
They say she told officers that Lucic couldn't find his cell phone after returning from a night out, and that he started yelling at her, demanding his phone back. The report goes on to say that when the victim tried to walk away from their argument, her husband grabbed her by her hair and pulled her backwards.
Police say when an officer asked the victim if Lucic attempted to strangle her during the incident, she said he did not.
According to the police report, when an officer made contact with Lucic, he appeared intoxicated when he answered the door, telling officers that "nothing had happened" and he did not attempt to provide any explanation. Lucic was later arrested and charged with assault and battery on an intimate partner.
"We're aware of the Looch situation and as an organization it's something we take extremely seriously," head coach Jim Montgomery said ahead of Saturday night's game against the Montreal Canadiens. "Looch is taking a leave of absence from the team right now and we support the Lucic family and we will continue to provide support and help for the Lucic family. And out of respect for their privacy, that's all I'm going to comment on the details right now."
Lucic returned to the Bruins as a free agent in July. He was originally drafted by the B's in 2006 and played eight seasons for Boston from 2007-08 until he was traded to the Los Angeles Kings in June of 2015.
Lucic played in the first four games of the season, but he has missed the last 11 matchups after taking a shot off the ankle during a win over Kings on Oct. 21.