Jack Jones' tenure with the New England Patriots is over.
The Patriots waived the second-year cornerback, his agent Jamal Tooson confirmed to NFL Network's Mike Garafolo on Monday.
"Certainly we want to thank the Patriot organization for drafting Jack," Tooson said in a statement to Garafolo. "Jack is an immense talent and looks forward to making an immediate contribution on his next team as soon as Sunday."
Mike Giardi of the Boston Sports Journal reported Monday that Jones' "behavior/engagement this past week and in Germany wasn't to the level the team had hoped after his previous incident (late for team meeting/1st quarter benching vs Washington)."
ESPN's Mike Reiss also provided further context with the following post:
Jones reportedly was late to the team hotel before New England's Week 9 game against the Washington Commanders. As a result, he did not play in the first quarter of the Patriots' 20-17 loss. Jones did travel with the team to Germany for Sunday's Week 10 matchup against the Indianapolis Colts, but he played only 10 snaps in the 10-6 defeat.
Jones is capable of being a pretty good player. But at some point, you have to make a change when the situation deteriorates.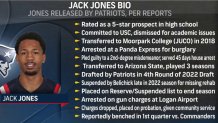 The Patriots selected Jones in the fourth round of the 2022 NFL Draft. He is the sixth member of New England's 2022 class to be released to traded.
The Patriots are 2-8 for the first time since 2000 following Sunday's loss. They have a Week 11 bye before returning to game action in Week 12 at the New York Giants.