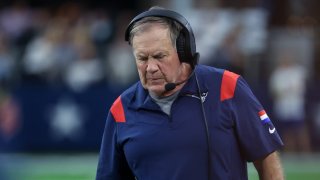 Are Bill Belichick's days as the head coach in Foxboro numbered?
Since Tom Brady's departure in 2020, Belichick and the New England Patriots have gone 26-29 and missed the playoffs in two of the three years. They're on track to do the same this season as they limp into Week 6 with a 1-4 record and two consecutive blowout losses.
The Patriots' 38-3 loss to the Dallas Cowboys in Week 4 marked the worst margin of defeat in Belichick's 29 years as an NFL head coach. Sunday's 34-0 loss to the New Orleans Saints was Belichick's second-worst, and the Patriots' largest home loss of Belichick's tenure.
The team's continued struggles have led to speculation that Belichick's 24th season with the Patriots could be his last. In a conversation with Michael Holley on Peacock's Brother From Another, Michael Smith made it clear where he stands on the subject.
"Last Monday I asked you, now I'm telling you. It's over. The Bill Belichick era in New England," Smith said. "I won't go so far as to call Robert Kraft firing him in-season. He deserves not to be fired in-season. But there is no hope right now in New England because I can't point to anything that this team does well. Where is the light at the end of the tunnel? Where is the sign of progress? Every week is a new worst of Bill Belichick's career. Every week, Mac Jones, who I told you is just 'eh,' is getting benched. This week, it's fourth-and-3, you're on the Saints' 40 down 24-0, and you punt. They've scored 55 points in five games.
"They don't have the worst record, but this is the worst team in football we're talking about right now. And I can't imagine a world in which Belichick survives this season. At a certain point, you don't get to coast off your six Lombardi Trophies. You just don't. He is firmly on the hot seat and has one foot out the door, maybe not by choice, but this cannot go past this season. It is time for a hard reset."
Holley agrees Belichick's time in Foxboro is likely nearing its end, but that doesn't mean the six-time Super Bowl champion head coach will be calling it a career.
"Bill Belichick won the Super Bowl in 2018. Here we are in 2023 and we're saying, 'OK, that's not enough.' So, I guess the culture has changed, organizations have changed," Holley said. "I think Belichick has run his course in New England not because he can't coach anymore, I think he's run his course in New England because he has been there too long. I don't think he's done as a coach. I think he's pretty much done in New England, I don't think he's done coaching though."
You can watch the full discussion here.
A Patriots team without Belichick patrolling the sideline is a difficult concept to fathom. Belichick has earned a reputation as arguably the greatest head coach in NFL history over the last 24 years in New England. However, his shortcomings as a general manager in recent years have led the organization to the precarious position it finds itself in now. Perhaps owner Robert Kraft would strip Belichick of his GM title while keeping him around as a head coach.
For now, Belichick will look for a way to right the ship when his team visits the Las Vegas Raiders on Sunday.