The late 2010s were the golden years for young talent on the Boston sports scene.
Jayson Tatum and Jaylen Brown blossomed into Celtics stars. David Pastrnak and Charlie McAvoy became Bruins franchise cornerstones. Mookie Betts, Rafael Devers and Andrew Benintendi formed a promising young Red Sox core. Dont'a Hightower, Jamie Collins and Sony Michel contributed to Patriots Super Bowl victories.
Fast forward to 2023, however, and the cupboard is looking a bit more bare.
At the end of every year, NBC Sports Boston ranks the top 25 Boston professional athletes under age 25 as part of our "20 Under 25" series. With 2023 at roughly the halfway point, we thought it'd be time for a mid-year check-in to see which players could top this year's list. Let's just say the pickings are a little more slim.
Here are the 20 players eligible for the"20 Under 25" Class of 2024 -- who were born in 1999 or later -- sorted by team:
Celtics: Jordan Walsh
Patriots: Christian Barmore, Bailey Zappe, Tyquan Thornton, Christian Gonzalez, Marte Mapu, Keion White
Red Sox: Marcelo Mayer, Triston Casas, Brayan Bello, Ceddane Rafaela, Bryan Mata, Nick Yorke, Miguel Bleis
Bruins: Fabian Lysell, Mason Lohrei, John Beecher, Jakub Lauko
Revolution: Dorde Petrovic, Damien Rivera
Barmore is easily the most accomplished professional player on this list, which includes several prospects or rookies who have yet to make their professional debut. Zero players on this list have made an All-Star team -- a far cry from our 20 Under 25 list from 2019, in which five of the top seven players went on to be All-Stars.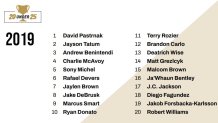 Of course, several players in the 2024 class have the potential to be All-Stars. Here's how we'd rank the top five in this year's class, based on a combination of their upside and accomplishments to date:
1. Brayan Bello, Red Sox
Bello broke into the big leagues last July with comparisons to Pedro Martinez, and so far, he's living up to the hype: Even after allowing six runs to the Oakland Athletics on Wednesday, the Dominican Republic native boasts a 3.60 ERA with 78 strikeouts through 16 outings.
2. Marcelo Mayer, Red Sox
Mayer is at least a year away from making his MLB debut, but he may have the most potential of anyone on this list. The No. 4 overall pick in the 2021 MLB Draft was viewed by many as the top overall prospect in the 2021 class. He's already reached Double-A at age 20 and is on track to become Boston's franchise shortstop of the future.
3. Christian Barmore, Patriots
Barmore thrived in his debut season, landing on the Pro Football Writers of America All-Rookie Team in 2021. The Alabama product endured a bit of a sophomore slump but already is a staple on New England's defensive line at age 23.
4. Christian Gonzalez, Patriots
You could make a case for Gonzalez over Barmore here, as the former Christian certainly has more upside. The No. 17 pick in the 2023 NFL Draft, Gonzalez is supremely athletic and should slot in as the Patriots' No. 1 cornerback from Day 1. If he has a strong rookie season, he could easily vault into the top three by December.
5. Triston Casas, Red Sox
Maybe there's some recency bias here, but Casas is starting to look like a legitimate major league power hitter. He's up to 12 home runs and 62 RBIs on the season thanks to a .992 OPS in July and has raised his batting average nearly 50 points over the past month and a half. Boston's first-round pick in 2018 finally appears to be putting it all together.