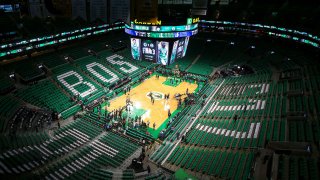 Get ready for an exciting night at TD Garden on Wednesday.
On the court, two of the NBA's top teams will face off with the Eastern Conference-leading Boston Celtics battling the Western Conference No. 3-seed New Orleans Pelicans 
Before and during Wednesday's game, the Celtics will host their first-ever HBCU Night to celebrate Historically Black Colleges and Universities.
The festivities will kick off with an HBCU alumni mixer, where approximately 60 attendees from Hampton, Howard, Morehouse, and Jackson State (among other HBCUs) will gather before the game. HBCU alum Jessica Forest will perform the National Anthem, while the Divine 9 will perform at halftime.
Boston native and HBCU graduate Sharra Gaston also will be recognized as the night's "Hero Among Us" during an in-game presentation. Gaston co-founded the Boston HBCU Alumni Network, and since 2018 has positively changed the educational and professional trajectory of Boston's youth of color through the HBCU Alumni Network's college and career preparatory programs. To date, Gaston and her team have raised over $100,000 and have pipelined over 20 Boston students into HBCUs across the United States.
In addition, Samya Fernandes, who will be attending an HBCU in the fall of 2023, will be honored during the game with a scholarship presented by the Thurgood Marshall College Fund and HBCU Night, Incorporated.
The Thurgood Marshall College Fund is the nation's largest organization exclusively representing the Black College Community. TMCF member-schools include the publicly-supported Historically Black Colleges and Universities (HBCUs) and Predominately Black Institutions (PBIs.) To date, the organization has awarded more than $300 million in such assistance to its students and member-schools.
The Celtics also will continue their participation in the NBA's HBCU Fellowship Program, which aims to provide career development opportunities in the business of basketball for undergraduate and graduate students from Historically Black Colleges and Universities (HBCUs).
In the fellowship's inaugural season, 60 roles from around the league were available, which bolstered 2,700 applicants. Last year, 24 HBCU schools were represented. The Fellowship Program is a paid 10-week summer internship and runs from June through August.
Tip-off for Celtics vs. Pelicans is set for 7:30 p.m. ET, with coverage beginning at 7 p.m. on NBC Sports Boston with "Celtics Pregame Live."