BOSTON -- Less than a year ago, Boston Celtics president of basketball operations Brad Stevens stood beaming at a podium inside the Auerbach Center as his team introduced offseason additions Malcolm Brogdon and Danilo Gallinari.
After years of controlled spending, the Celtics were pushing their chips to the center of the table, making a couple of big-splash additions aimed at plugging known holes after the team fell short in the 2022 NBA Finals -- all while stomaching a luxury tax bill greater than the sum of what the team had paid over the previous two decades.
The Celtics had been building towards this moment. After his surprise elevation to the front office, Stevens had leaned heavily into spending draft capital to put an established supporting cast around the core that his predecessor, Danny Ainge, had drafted and developed through various other iterations of title hopefuls.
What Stevens couldn't have predicted in that moment was that a new collective bargaining agreement would arrive this summer aimed at dismantling the very team that he worked diligently to construct. After decades of small tweaks to the CBA, the NBA is ushering in a new pact that will force teams to quickly reevaluate how best to build a championship roster with new punitive measures seemingly designed to narrow the gap between the have and have nots.
Suddenly, the Celtics have tough decisions to make. Is signing Jaylen Brown to the five-year, $295 million supermax contract that the team so yearned for him to trigger now the best path forward, especially given that both he and soon-to-be-extension-eligible teammate Jayson Tatum will soon command 35 percent of the salary cap apiece? Can the Celtics afford to carry a luxury like Brogdon, whose $22.6 million salary was a contributing factor to Boston's $60-plus million luxury tax bill this past season?
The entire league is still waiting for final details of this new CBA, but teams like Boston know one thing for certain: It must soon begin charting a path towards lower spending or encounter a set of draconian penalties that could make it impossible to maintain a championship-caliber roster.
"I just think we have to we have to know all the information. We have to think it through, thoroughly. But I'm not worried about -- obviously, we've shown a willingness to spend," Stevens told NBC Sports Boston. "This was a huge tax year for us. And I know that, certainly, when you get to those different levels that will be in the [new] CBA, then you have some restrictions and using tools to build your team.
"Those will be things that every team has to think about and really sort through. But I also know that our ownership and our group is willing to spend to put our best foot forward."
The Celtics might be willing to spend, but the new CBA makes it more complicated than just writing the sort of big check that Boston hoped would deliver it to a championship stage this past season.
The Second Apron, explained
The biggest change in the new CBA is the addition of a second apron that will sit $17.5 million above the luxury tax line. Any team bold enough (perhaps crazy enough is the better adjective) to linger above the second apron starting in the 2024-25 season -- when Brown's supermax deal would kick in for Boston -- would trigger all sorts of new constraints on roster construction.
That includes not being able to use a midlevel exception, not being able to aggregate salaries of outgoing players in trades, not being able to send cash in any swaps, and constraints on trading picks deep into the future, with the possibility that a team's pick could fall to the end of the first round.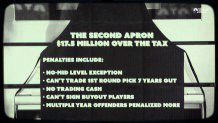 Essentially, many of the mechanisms previously in place for teams of all spending levels to upgrade their roster would virtually be eliminated for the biggest spenders. Teams would be forced to wait until they get their books in order before being able to truly shuffle their roster.
This is rough timing for Boston. After securing both Tatum and Brown on reasonable money on their rookie extensions, the Jays are both now supermax eligible based on All-NBA triggers and will command the most possible money on their next deals.
For Brown, that's a $295 million extension with an average annual value of nearly $60 million. Tatum's extension comes a summer later and is expected to be worth $318 million, or an average annual value of nearly $64 million. Forget the sticker shock of contract values, that's just where the league is headed. The bigger issue for Boston is just how much of the pie the Jays will eat up with their new deals.
With the Jays combining for up to 70 percent of the salary cap starting in the 2025-26 season, that doesn't leave a whole lot of pie left to fill out the rest of a 15-man roster. It's reasonable to ponder how the Celtics can put a championship core around that duo and stay below the second apron.
The tough-to-swallow answer is that they might not be able to. At the very least, Boston will not have the sort of supporting cast that it enjoys now if it elects to move forward with both Tatum and Brown.
Brogdon's salary is set to eat up 17 percent of the cap next season, Derrick White and Marcus Smart account for 14 percent apiece. Robert Williams and Al Horford, even on modest deals, still combine for another 16 percent of the pie.
The obvious question becomes whether it is in Boston's best financial interest to build around two supermax players — and if Tatum and Brown are the right combo to put that money into.
The only good news for Boston is that, while action is require now, the toughest decisions don't necessarily have to be made immediately. Because Brown's extension wouldn't kick in until next summer, and Tatum the summer after that, it affords the team at least a little bit of time to fully assess its path forward.
And, at least for now, Stevens is signaling a desire to keep the band together for as long as possible.
"At the end of the day, we love our foundation, we love our core, and that's really our focus and priority," said Stevens.
But if the Celtics elect to ride forward with the Jays, what does it mean for the rest of the roster?
Editor's Note: This is Part 1 of Chris Forsberg's five-part series on how the new CBA impacts the Celtics' future. Coming Tuesday: The Malcolm Brogdon dilemma.