The moment usually comes sometime in the first half, and it never fails to create chaos.
What starts as the most innocent act in basketball -- inbounding after a make -- becomes a fight for survival when Celtics coach Joe Mazzulla lets loose his two Rottweilers.
It cannot be overstated how easily NBA teams typically beat the full-court press, since even today's 7-footers can handle the ball. But that calculus changes when the pressure is being applied by Derrick White and Jrue Holiday, who are quickly becoming every opponents' worst nightmare at both ends of the floor -- and the potential keys to hanging Banner 18.
After a decade of drama spearheaded by the lovable/infuriating/inspiring/enraging Marcus Smart, Celtics fans are being treated to the No Drama backcourt. Holiday and White have done more than even stars Jayson Tatum and Jaylen Brown to replace the club's "aren't we taking this hairpin mountain curve kinda fast?" brand of chaotic basketball with an almost mystical calm.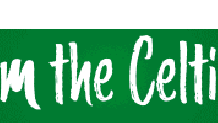 Both of them seem carved out of a different era -- and maybe even a different sport -- as they simply do their job in a way that would've made vintage Bill Belichick proud. Neither pounds his chest, demands the ball, or engages in parliamentary debate with the officials. Whereas Smart's proclamations of selflessness always contained more than a little bit of, "Everyone look at how team-first I am!" these guys don't need to say it, because they live it.
And they're transforming the Celtics.
On the defensive end, they're the best backcourt in the NBA. Holiday is a five-time All-Defense selection, while White earned his first nod last year. The handful of times a game that Mazzulla unleashes them in the backcourt, they attack the ball like a pair of apex predators, a whir of arms and legs and smothered passing lanes, either forcing a turnover or delaying the start of the opposing offense until single digits remain on the shot clock. They're always a threat to press, and if you stare closely at the rival coach, you might notice an extra bead of sweat around the temples.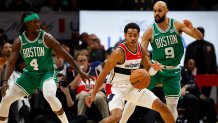 On offense, they make the right play. Holiday is a legit post presence, especially when finishing with his favored left hand, while White has mastered the forgotten art of the 10-foot floater to accompany a deadly 3-point stroke.
They're each good for multiple hustle saves per game -- the skills that make them so deadly defending the ball also apply to chasing it down -- and they never feel the need to hold a press conference trumpeting their ability to make winning plays. Outside of Al Horford, they're exactly what the Celtics have lacked over the last six or seven years of near-misses.
Credit Brad Stevens for seeing the fit. Holiday arrived from Milwaukee via Portland in a preseason stunner, the result of Milwaukee's blockbuster acquisition of All-Star Damian Lillard. Over three seasons and one title in Brew City, Holiday emerged as the frequent No. 2 to MVP Giannis Antetokounmpo, especially once the sharp-shooting Khris Middleton began spending more time in sweaters on the sideline than in uniform.
But the Celtics don't need him to take 15 shots or score 20 points a night. There's plenty of that elsewhere on the roster. So Holiday currently sits at or near career lows in both categories, averaging just 13.4 points, and it doesn't bother him a whit.
It's telling, however, that when the Celtics needed a boost on Wednesday in Philadelphia with starters Kristaps Porzingis and Brown sidelined, they knew where to turn. Mazzulla told reporters that he reminded Holiday of all the times he had carried the short-handed Bucks, and so Holiday went out and delivered season-highs in shots and points (18 apiece) while grabbing 10 rebounds in the satisfying 117-107 victory that vaulted the Celtics back atop the Eastern Conference.
His effort might've gone for naught, except that White took over the fourth quarter. An unheralded acquisition from the Spurs at the 2022 trade deadline, White is the kind of indispensable player who fills a pivotal role on a champion while infrequently stealing the limelight for himself.
One exception came at the buzzer in Game 6 of the 2023 Eastern Conference Finals against the Heat, when White alertly crashed the boards to lay in Smart's miss and force a seventh game. He delivered a less dramatic example Wednesday night, scoring 14 of his 27 points in the final period and adding three assists as the Celtics pulled away.
Afterward, there was a lot of focus on old-man Horford's turn-back-the-clock performance defending MVP Joel Embiid and Tatum's scoring outburst down the stretch, with secondary headlines for Holiday's offensive emergence and White's all-around fourth quarter.
And that's appropriate, because if we've learned anything about this duo, it's that they're happy to prowl the edges of the spotlight and quietly do their part to ensure the Celtics keep winning.