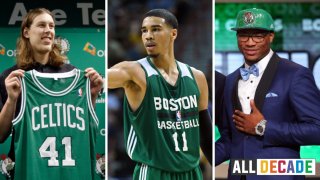 BOSTON — The success of the Boston Celtics in the past decade by and large has come on the backs of veteran, established players. 
But there have been a few youngsters who were ready for prime-time play sooner rather than later, proving their worth by being solid contributors to the team's overall success in their first season. 
LIVE stream the Celtics all season and get the latest news and analysis on all of your teams from NBC Sports Boston by downloading the My Teams App.
Here we take a look at the top six rookies for the Celtics since 2010. 
6. Daniel Theis
How acquired: Free agent signing in 2017
Rookie per-game stats: 5.3 points, 4.3 rebounds in 63 games. 
Only listed at 6-foot-8 but playing center, Theis' defensive versatility got him on the floor early. However, his rookie season was cut short due to a torn meniscus injury that robbed the Celtics of one of their better interior defenders coming off the bench whose play was seemingly getting better as the season progressed. 
5. Jaylen Brown
How acquired: No. 3 pick (from Brooklyn) in the 2016 NBA Draft
Rookie per-game stats: 6.6 points and 2.8 rebounds in 78 games
Jaylen Brown caught the eye of many when as a rookie he scored 19 points in his first start against the Cleveland Cavaliers, with many of those points coming against LeBron James. Brown's shooting was better than anticipated in his first year, making 34.1 percent of his 3's and 45.4 percent of his shots from the field to earn a spot on the NBA's All-Rookie Second Team. 
4. Kelly Olynyk
How acquired: The No. 13 pick (via trade with Dallas) in the 2013 NBA Draft
Rookie per-game stats: 8.7 points and 5.2 rebounds in 70 games
While most remember Olynyk for his Game 7 heroics in the 2017 Conference Semifinals against Washington, the 7-footer had a strong first year for the Celtics. His ability to stretch the floor was important not only for his personal growth, but also Boston's transition to having more space-creators on the floor with size like Olynyk.
3. Jared Sullinger
How acquired: The 21st pick in the 2012 NBA Draft
Rookie per-game status: 6.0 points and 5.9 rebounds in 45 games
With a nice touch around the basket and the ability to knock down 3's, Sullinger had all the tools to be a solid NBA player for years to come. While his health was a factor in him no longer being in the NBA, there's no denying he made quite a splash in his first season with the Celtics. 
2. Marcus Smart
How acquired: Drafted by Boston with the No. 6 pick (from Brooklyn) in the 2014 NBA Draft
Rookie per-game stats: 7.8 points and 3.3 rebounds in 67 games
It didn't take long for Marcus Smart to establish himself as an above-average defender who brought an elite brand of toughness to the court. His shooting left a lot to be desired, but he excelled in the intangibles needed to win, which earned him a spot on the NBA's All-Rookie Second Team. 
1. Jayson Tatum
How acquired: Drafted by Boston with the No. 3 pick (from Philadelphia) in the 2017 NBA Draft
Rookie per-game stats: 13.9 points and 5.0 rebounds in 80 games
From Day One, the game has looked as though it comes easy to Tatum, whose scoring ranked among the franchise's all-time leaders among first-year players. Tatum's play earned him a spot on the NBA's All-Rookie First Team in addition to a third-place finish in the league's Rookie of The Year voting. 
Don't miss NBC Sports Boston's coverage of Celtics-Raptors, which tips off Wednesday at 11:30 a.m. with Celtics Pregame Live, and then Mike and Scal have the call at 12 p.m. You can also stream the game on the MyTeams App.