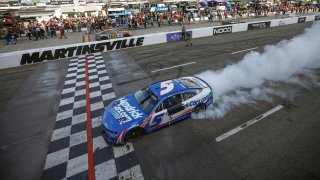 Even when Hendrick Motorsports doesn't dominate a race, they still find a way to win.
In a race where Hendrick drivers led just 30 of 400 laps, Kyle Larson made his way to the front in the closing laps to score his first victory at Martinsville Speedway on Sunday. The team has now won a record 28 times at NASCAR's oldest and smallest track.
After a race at the shortest track, the Cup Series heads to its largest track – Talladega Superspeedway – this weekend.
Who's the driver to beat after the ninth race of 2023? Here's our latest power rankings:
1. Kyle Larson
Last week: 2
Sunday's win meant a little extra for Larson on multiple levels. It was his first win at the track, where he has struggled mightily throughout his career. It was also special for his team, which won its first race at Martinsville 39 years ago when it was on the verge of folding. Larson now adds his name to the star-studded list of Hendrick drivers to win at Martinsville.
2. William Byron
Last week: 1
While one Hendrick driver (Larson) capitalized late in the race to win, another Hendrick driver (Byron) never found his footing. Byron was favored to win at Martinsville after his victory there last year and his chart-topping practice speeds. Instead, he peaked around 10th and then faded in the final run to finish 23rd.
3. Kevin Harvick
Last week: 5
If it weren't for a flat tire after the final pit stop, Harvick likely would've scored his second career Martinsville win. The 47-year-old veteran led 20 laps and won Stage 2 but finished 20th because the issue happened so late in the race. Harvick deserved a better finish than he got, but the No. 4 team clearly has winning speed on short tracks.
4. Ross Chastain
Last week: 4
Chastain struggled in Stage 1, almost getting lapped before using strategy to get to the front. Once he was there, Chastain maintained his track position and led 31 laps before finishing 13th. Now, Chastain's winless streak reaches one full season after his win at Talladega last spring.
5. Christopher Bell
Last week: 3
Expectations were high for Bell entering Martinsville. He was fresh off a win at Bristol and won the most recent race at Martinsville last fall, but this weekend was a struggle. Bell qualified 22nd, finished 16th and never really ran inside the top-15 while two of his Joe Gibbs Racing teammates finished in the top-five.
6. Alex Bowman
Last week: 6
Steady as ever, Bowman continues to rattle off decent finishes. He was 11th at Martinsville, giving the 29-year-old Hendrick driver eight top-15s in nine starts this season. There are definitely concerns about why Bowman isn't in contention for wins like Larson and Byron, but his consistency will carry him into the playoffs.
7. Joey Logano
Last week: 9
Usually, a two-time champion like Logano would be upset with a second-place finish. In this instance, though, he was thrilled. Logano was so slow that he went a lap down in Stage 1. Using strategy and catching a timely caution, he somehow found his way to the front for the final restart and held on for his third top-five of the year. There are concerns about Team Penske's short-track speed, but Talladega should be an equalizer for Logano.
8. Tyler Reddick
Last week: 7
Reddick scored 15 stage points and ran in the top-five for most of the race. Then, a slow final pit stop and ill-handling car shuffled him back to 22nd at the finish. On the bright side, that was Reddick's worst finish in the last seven races. He's been quick for most of the season and this result shouldn't change that.
9. Denny Hamlin
Last week: 10
For the first time in five weeks, Hamlin is out of the No. 10 spot. It's a well-deserved jump as Hamlin enters a stretch on the schedule of his best tracks. He finished fourth at Martinsville, leading 36 laps and scoring 11 stage points. It looked like a sixth Martinsville win was within reach before the late caution came at the wrong time, but he still left Virginia with his first top-five of the season.
10. Kyle Busch
Last week: 9
Busch's first season with Richard Childress Racing has been up and down. He nearly won the Daytona 500 and then dominated the following week at Fontana. But since then, he's shown inconsistent speed. Busch finished 21st at Martinsville, which is around where he ran all day. He's been quicker at drafting tracks, so Talladega could be a bounce-back opportunity.
First four out: Martin Truex Jr., Ryan Blaney, Brad Keselowski, Chase Briscoe