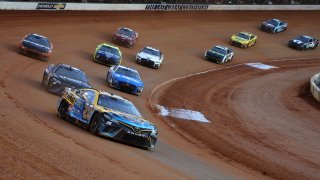 The only dirt race on the NASCAR schedule delivered some exciting action on Sunday.
From the spins to the slide-jobs, the Bristol Dirt Race had it all. Two dirt track aces – Christopher Bell and Tyler Reddick – battled it out for the win, with the former holding off the later after a caution on the final lap.
It's tough to learn much about the rest of the season from the dirt race, but the Cup Series will head to another short track next week: Martinsville Speedway – NASCAR's oldest track.
Who's the driver to beat after the eighth race of 2023? Here's our latest power rankings:
1. William Byron
Last week: 1
The only driver with multiple wins this season, Byron will be happy to race on paved surfaces again. He finished 13th at Bristol and scored just one stage point, largely running outside the top 10 for most of the night. The 25-year-old Byron is the defending spring race winner at Martinsville.
2. Kyle Larson
Last week: 2
Stage 1 was a breeze for Larson – he led all 75 laps and didn't appear to have many challengers. It all fell apart once he got shuffled back in traffic, though. Larson was third in Stage 2 but he spun on his own in the final stage and then crashed again after contact with Ryan Preece, officially ending his race in 35th.
3. Christopher Bell
Last week: 5
It was only a matter of time before Bell grabbed his first win of 2023. Every time he's finished a race this season without a crash, he's finished inside the top-six (6 of 8 races). Bell now leads the overall points standings and he won the most recent race at Martinsville last October.
4. Ross Chastain
Last week: 3
Chastain wrecked on the final lap, but he wasn't a contender even before that incident. Even strategy couldn't help him when crew chief Phil Surgen kept him out on old tires for the final stage. Chastain ended up 28th, giving him his worst finish of the season. 
5. Kevin Harvick
Last week: 7
After running outside the top 20 for most of the race, Harvick survived the carnage and finished ninth. The 47-year-old veteran almost feels like a lock to finish better than expected every week at this point. Outside of a crash in Austin, he's finished 13th or better in every race this season.
6. Alex Bowman
Last week: 4
Bowman's streak of seven straight top-15 finishes to start the season ended at Bristol. He crossed the line in 29th, two laps down after pitting late for a flat tire. Before the tire issue, Bowman was primed for another top-10 finish as this team continues to click with solid runs.
7. Tyler Reddick
Last week: 9
Reddick nearly won his second race of the season, but had to settle for second place at the Bristol Dirt Race for the second straight year. He led 69 laps and won Stage 2, as he, Bell and Larson were clearly the class of the field.
8. Kyle Busch
Last week: 6
The defending Bristol Dirt winner never had the same speed in 2023. Busch had flashes while running the high line, but he ultimately wasn't quick enough to hang with the leaders before a broken suspension in the final laps sent him back to finish 32nd.
9. Joey Logano
Last week: 8
Logano didn't stick around for long on Sunday. The 2021 Bristol Dirt winner was involved in a crash on lap 12, then weaved his way through traffic before cutting a tire and breaking his toe link to officially end his race. Logano finished dead last in 37th.
10. Denny Hamlin
Last week: 10
Some veterans just couldn't figure out the dirt – and Hamlin was one of those guys. He finished 22nd with a badly beaten up car. Hamlin will quickly want to turn the page to Martinsville, where he has five career wins – most among active drivers.
First four out: Martin Truex Jr., Brad Keselowski, Ryan Blaney, Ty Gibbs