The Red Sox plan to conduct a more exhaustive search for Chaim Bloom's replacement than they did for Bloom, the only candidate they interviewed four years ago.
That means they might not have anyone in charge before the GM Meetings next month in Arizona, which is less than ideal. Or it's entirely possible they've already identified their lead candidate and they know the process can't sort out until after the playoffs, in which case it's wise to just say you're going to wait.
Whether they hire someone quickly or deliberately, they need to nail this decision or risk continuing their slide towards irrelevance. And in that context, Red Sox CEO Sam Kennedy made a couple of worrying comments on Monday that struck the wrong chord.
The first came in response to a question about improving not just the team's record, but its entertainment value. Fans watch on NESN and fill Fenway Park to be entertained, and that's not easy when you're starting an opener, which eliminates the magic of first pitch or the need even to arrive to the park on time. Nothing against Brennan Bernardino, but he's no Roger Clemens, Pedro Martinez, or Jon Lester.
Similarly, here's hoping we never have to watch another season with 15 second basemen and 12 center fielders, numbers I exaggerated, but not by much. Constant platoons and shuffling players around the diamond creates an amorphous product that's hard to identify with as a fan. But rather than acknowledge the lackluster entertainment value of the last couple of years, Kennedy fell back on a trite sentiment: winning cures everything.
"Entertaining baseball is winning baseball," he said. "I don't care what anybody says. You can say that you need to play a different brand of baseball, you need to do this, you need to do that. We've got to win. If you win, somehow magically people say, 'This team's likable,' or, 'This team's entertaining.' I think that's nonsense. Winning baseball is what matters. That's what entertains people. We know that."
Winning cures some things, but it doesn't cure everything, otherwise the Rays would sell out every game even in their miserable Florida dome.
But that was only half the problem. The other issue came when Kennedy was pressed on the desirability of the top job, and the perception that ownership has made the role unstable, with a shelf life of only four years.
Kennedy bristled at the notion, and then laid down the law.
"This is the Boston Red Sox," he said. "If you want to run a baseball organization, this is where you want to be. You want to be in Boston. Why? Because it matters here more than anywhere else. So, if you're not up for that challenge, thanks but no thanks."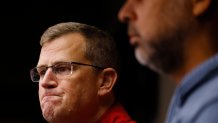 That sounds fiery and defiant, but is it good business? The Red Sox have a perception problem, and the job no longer sells itself. Beyond the lack of security for the last three heads of baseball operations, you're also looking up at everyone else in baseball's strongest division, with no clear indication that ownership plans to spend again.
Let's not forget that some very good candidates removed themselves from consideration before the search even began the last time around, including Cleveland's Chris Antonetti, Arizona's Mike Hazen, and Minnesota's Derek Falvey.
If ownership wants to take an eff-you-we're-the-Red-Sox posture rather than considering why these qualified executives wouldn't even consider an interview, they're doing themselves a disservice and potentially missing out on a savior.
And that would be a shame, because on this point, Kennedy is right: Nowhere is building a winner sweeter than Boston.