You could practically field a starting nine with the list of executives who won't even consider running the Red Sox.
Mike Hazen would've been a great choice, but he chose to stay in Arizona, where his Diamondbacks are facing the Phillies for a World Series berth.
Jon Daniels has tons of experience thanks to his years in Texas, but he's staying in a part-time role with the Rays for family reasons (per WEEI). Mike Hill prefers to remain in the league office (per USA Today). Derek Falvey isn't leaving Minnesota. Sam Fuld and Brandon Gomes, native New Englanders in the No. 2 roles with the Phillies and Dodgers, respectively, also declined interviews (per The Athletic).
Theo Epstein? Please.
The Red Sox job ain't what it used to be, but it's still shocking to see so many execs decline so much as an interview. It has gotten so bad, Trenni Casey asked a perfectly reasonable question on Monday's Arbella Early Edition about former Marlins GM King Ng: Would she even want the job? And Ng, mind you, is unemployed.
The Red Sox have a credibility problem, but there is a solution. It may not wow the fanbase like the pursuit of Billy Beane two decades ago, or the potential poaching of Hazen from Arizona this fall, but it would provide the most seamless transition under the team's current self-imposed restrictions.
Hire Eddie Romero.
In speaking to sources outside the organization, it's becoming clear that the biggest hang-up for potential job seekers isn't necessarily the lack of security as the Red Sox seek their fifth baseball boss in a dozen years. It's the infrastructure he or she would inherit.
Want to hire your own manager? Tough. We've already extended Alex Cora. Hoping to build an organization from the top down with your most trusted lieutenants? That's a negative, too, because our highest-ranking execs aren't going anywhere, and some of them predate Epstein.
For an organization with a reputation for instability, the Red Sox have exhibited remarkable loyalty in every baseball ops job except the top one. The trio of Romero, Brian O'Halloran, and Raquel Ferreira boast more than 60 years in the organization, for instance, and ownership wants to keep them. They're by no means the only holdovers, with long-time assistants dotting the major- and minor-league operations.
Elevating Romero eliminates any awkwardness or conflict, because they're already his people. He knows Cora. He has worked alongside everyone in the front office. In fact, it's fair to ask why the Red Sox would even consider someone as green as Fuld or Gomes when they already have Romero on the payroll.
An 18-year veteran of the organization, Romero has extensive experience in Latin America, thanks to his years as the club's international scouting director. He helped sign Rafael Devers, Yoan Moncada, and Brayan Bello, to name three.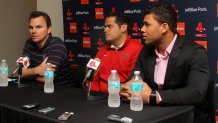 He has also worked closely with Epstein, Ben Cherington, Dave Dombrowski, and Chaim Bloom, the latter two as assistant general manager. He's widely respected in the organization as a leader, and it may come as a surprise to some fans to learn that before he began his baseball career, he worked as a prosecutor in Jacksonville after earning a law degree from the University of Florida.
The son of former Red Sox infielder Ed Romero, he's considered aggressive and strong-willed, which would be a welcome change from Bloom's overly cautious tendencies. And for those who question why someone who sat in Romero's seat during three last-place finishes in four years should get the job, there's a big difference between the Nos. 1 and 3 chairs. The first calls the shots. Everyone else just tries to execute his vision.
I suspect that a Romero regime would be willing to deal from the club's current prospect inventory, for instance, especially if he recognizes a difference between the club's internal evaluation of a player and his outside reputation. I also suspect he won't be as hesitant as Bloom to pursue bigger-money free agents.
The Red Sox have promised a robust process, so I don't imagine they'll be hiring Romero anytime soon. But they should consider it, because tabbing him includes another benefit: It ends the search before anyone else can say no.