While the Boston Red Sox' top offseason priority should be bolstering their starting pitching staff, clubs can never have enough bullpen help.
Fortunately, there's no shortage of serviceable relief pitchers set to become free agents this winter. The list of intriguing arms is headlined by a handful of grizzled veterans with proven track records.
MORE RED SOX
If Boston looks to shore up its bullpen with one of the top options on the market, here are the names it could consider.
1. Josh Hader, LHP
Age: 30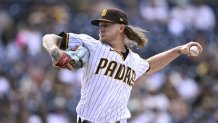 After spending his first six MLB seasons in Milwaukee, Hader was traded to the San Diego Padres ahead of the 2022 deadline. The five-time All-Star struggled mightily immediately after the deal, but he returned to form with the Friars in 2023.
In fact, Hader posted the second-lowest ERA of his career (1.28) and notched 33 saves through 61 appearances. He amassed a 1.10 WHIP with 85 strikeouts and 30 walks in 56.1 innings.
Hader is the unquestioned No. 1 reliever set to hit free agency and should earn a pretty penny as a result.
2. David Robertson, RHP
Age: 39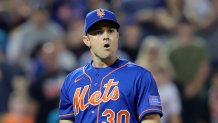 The New York Mets originally signed Robertson as a set-up man for star closer Edwin Diaz. But after Diaz suffered a season-ending injury in the World Baseball Classic, Robertson was called upon to replace him. The veteran righty excelled in the role, posting a 2.05 ERA and earning 13 saves in 40 appearances before being traded to the Miami Marlins at the deadline.
Robertson looked like a different pitcher in South Beach. Through 22 outings with the Marlins, his ERA ballooned to 5.06 and his WHIP from 1.00 to 1.59.
Those struggles may have lowered his price tag in free agency, but they shouldn't dissuade bullpen-needy clubs from signing him. He previously was the model of consistency for relief pitchers and there's no reason to believe he can't regain his Mets form in 2024.
3. Craig Kimbrel, RHP
Age: 36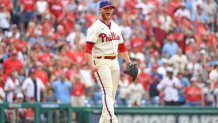 Kimbrel's days as an elite, shutdown closer are behind him. The former Red Sox righty has been inconsistent since helping Boston to a World Series title in 2018.
That said, Kimbrel enjoyed a strong 2023 campaign with Philadelphia that included his ninth career All-Star nod. He bounced back from a so-so year with the Los Angeles Dodgers by posting a 3.26 ERA and 1.04 WHIP through 71 appearances (69 innings).
There's a risk that comes with signing Kimbrel as you never know which version of him you're going to get. But for teams that struggled to close out games in 2023, that's absolutely a risk worth taking.
4. Matt Moore, LHP
Age: 35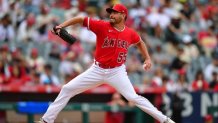 Moore, a 12-year veteran, was primarily a starting pitcher from his rookie 2011 season through 2021. He converted to a relief role with Texas in 2022 and has seen plenty of success since.
Through 46 appearances in 2023 between the Los Angeles Angels, Cleveland Guardians, and Miami Marlins, Moore finished with a 2.77 ERA and 1.15 WHIP. He struck out 57 batters and walked only 14 in 48.2 innings.
The southpaw's name doesn't jump off the page like the ones mentioned above, but he's a cheaper option who could pay dividends in 2024.
5. Jordan Hicks, RHP
Age: 27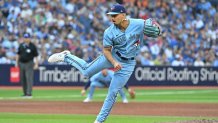 Hicks often makes highlight reels with a fastball that consistently tops 100 mph and has reached up to 105 mph. At only 27 years old, there's still a chance he could live up to his potential as a true shutdown reliever.
He provided a glimpse of that potential after being traded from the St. Louis Cardinals to the Toronto Blue Jays at the 2023 deadline. In 25 games with Toronto, Hicks posted a 2.63 ERA and 1.08 WHIP in 24 innings.
The major concern with Hicks is he struggles with command. Walks have been an issue for the flamethrower, and these days, the game's top hitters aren't getting 100+ mph fastballs blown by them if the pitch is in the wrong location. Still, the lights-out stuff is impossible to ignore, and it makes Hicks one of the more intriguing options available.
Honorable mentions: Hector Neris, Liam Hendriks, Joe Kelly, Andrew Chafin, Ryne Stanek, Wandy Peralta, Reynaldo Lopez, Aroldis Chapman, Blake Treinen, Will Smith, Keynan Middleton.