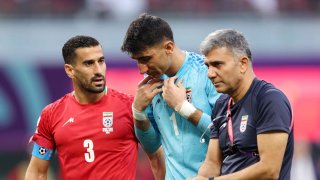 Iran was forced to make an early goalie substitution in its first World Cup match against England on Monday.
Starting goalkeeper Alireza Beiranvand collided with center back Majid Hosseini in the eighth minute when trying to deflect an England cross.
Beiranvand was examined by a medical team and ultimately remained in the game for a short period. He went down on the pitch soon after play resumed and he was ultimately removed from the game.
Hossein Hosseini, one of four goalkeepers on Iran's World Cup roster, entered the game in the 19th minute. Because Beiranvand was removed with a head injury, the goalie swap did not count as one of Iran's five substitutions.
Beiranvand started all three matches for Iran at the 2018 World Cup. He allowed just two goals in those games, but Iran was eliminated in group play with just four points.
Following Monday's match against England, Iran has Group B games against Wales on Friday, Nov. 25, and the United States on Tuesday, Nov. 29.