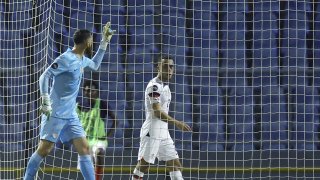 The U.S. men's national team may have advanced to the Concacaf Nations League semifinals on Monday, but it didn't come without some nervousness.
The USMNT lost 2-1 to Trinidad and Tobago in Leg 2 of their quarterfinals matchup, but the result shouldn't have reached that point.
Antonee Robinson scored the opener on a well-worked cross from Sergino Dest, but Dest got himself sent off with a perplexing red card moments before the first half.
Dest, who was upset after a line judge ruled him out of bounds when he thought otherwise, booted the ball away from play and kept jawing at the head official despite attempts from his teammates to quiet him. He received consecutive yellow cards for both incidents and got sent off with a red.
"It is concerning as it's not a moment we want to represent, that obviously wasn't the right response from Sergino," head coach Gregg Berhalter said after the game. "He apologized to the group, he said it won't happen again."
Robinson even cited it as a "moment of unprofessionalism" in a post-game interview.
Dest spoke on the incident on an Instagram post: ""I want to apologize to my Teammates, Staff, Fans and whole nation for my behaviour it was unacceptable, Selfish and immature I let my team down! It's something I have to learn from and it won't happen again!"
It ultimately didn't cost the USMNT, but it did hurt as they conceded both goals after his removal.
Here's how social media reacted to Dest's red card: