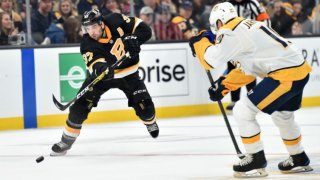 GOLD STAR: Roman Josi played a Herculean game for the Predators and was a massive factor in the Predators eventually pulling things out in overtime.
Josi scored a pair of goals to give him 13 on the season and played 26 plus minutes of ice time while leading Nashville with six shots on net from the back end. He also had one hit, one blocked shot and a takeaway in a dominant effort. But it was his play in the third period blocking a Torey Krug and then blocking Jaroslav Halak's clearing attempt that ended up changing the course of the game. It was the biggest play of the game and it was created almost exclusively by Josi's efforts at both ends of the ice.
BLACK EYE: David Krejci would appear to be in the doghouse a bit for the Bruins. He finished with just one shot on net and a 2-for-7 performance in the face-off circle while doing very little to generate any kind of offense. That was reflected when it came time for the overtime session as Krejci never even got a single shift. Bruce Cassidy went with six different forwards rather than calling the number for his second-line center.
The two giveaways and the holding penalty taken in the first period further slid things toward the negative end for Krejci's overall effort. For the month Krejci has two goals, five points and a minus-3 rating in 11 games, so some of Saturday night's actions might be about the entire body of work for the last month.
LIVE stream the Celtics all season and get the latest news and analysis on all of your teams from NBC Sports Boston by downloading the My Teams App.
TURNING POINT: The Bruins had a long stretch of winning games where they enjoyed bounces and had good luck on their side. Well, that has certainly changed as they've lost eight of the last nine games including a number of overtime and shootout games over the last few weeks.
This time around it was an awful, fickle bounce of the puck in OT as a puck that appeared destined to rim around the boards to the B's for an odd-man rush but turned into a Grade-A scoring chance for Nashville when the on-ice official blocked the puck along the end boards. Ryan Johansen was easily able to corral the loose puck and feed it to Ryan Ellis for the game-winner in overtime. The Bruins are now 2-4 in overtime games this season.
HONORABLE MENTION: Give Patrice Bergeron credit, he did everything possible to keep the Bruins from losing in regulation. It was two goals for Bergeron in regulation including a score in the final minutes with the goalie pulled that allowed the Bruins to at least earn the overtime point against the Predators.
Bergeron finished with two goals and eight shot attempts in 21:35 of ice time along with a blocked shot and 16-of-27 face-off wins for the Black and Gold. It now makes five goals scored for Bergeron in seven games since coming back from injury, and it makes No. 37 one of the few players that is playing anywhere close to their best hockey right now while most of the rest of the team is going through some doldrums.
BY THE NUMBERS: 2-9 – the record for the Bruins in both overtime and shootout games this season as they continue to lose points in anything that goes beyond regulation.
QUOTE TO NOTE: "[Halak] made some good saves, but, listen, I've tried to be honest up here. I believe we have two number one [goaltenders] in there, but those were three goals that were very saveable. Pucks that probably shouldn't end up in your net. So a little bit of that is our goaltenders have to push through that right now. We're not scoring that much, or we've got to start scoring more, finishing some plays to allow them to play out. It's one or the other if you want to get in the win column." –Bruce Cassidy on Jaroslav Halak, who allowed three goals that would probably be in the soft category including the aggressive misplay in the third period on a Torey Krug shot block that turned into a Nashville breakaway.