The extraordinary depth the Boston Bruins had after the trade deadline last season quickly evaporated early in NHL free agency, but we all knew that was coming.
The B's went all-in to pursue a Stanley Cup title last year, and that was likely going to result in some very good players -- such as Tyler Bertuzzi, Dmitry Orlov, etc. -- departing for better contracts elsewhere.
Boston did make several moves over the weekend, though, signing five veterans to short-term contracts.
Morgan Geekie, C: Two years, $2 million salary cap hit
Patrick Brown, C: Two years, $800,000 salary cap hit
James van Riemsdyk, LW: One year, $1 million salary cap hit
Milan Lucic, LW: One year, $1 million salary cap hit
Kevin Shattenkirk, D: One year, $1.05 million salary cap hit
"Well, our defense and our goaltending are pretty much what we had last year," Bruins general manager Don Sweeney said Saturday. "Congrats to Connor Clifton and all the other free agents that had other opportunities to go elsewhere, but that was a pretty good d-corps last year, so we feel pretty good about that, and the goaltending was excellent during the regular season. We all fell short in the playoffs. So, our depth at the front was where we tried to address most of the needs, and again, with an eye towards allowing some of the younger guys to see if they can come in and take their jobs.
"We still have to hear a final word both from David Krejci and Patrice (Bergeron), so we'll keep an eye and an ear out for that and cross our fingers that maybe that falls our way, but even with the move with (Morgan) Geekie today, a bigger centerman, he's played wing as well. We talked a lot about (Trent Frederic) going to the middle of the ice, he's a left shot, so now you have lefty, righty that might be able to go into the third line and provide depth scoring for us. Freddy had 17 goals last year and was productive. Geekie played just over 10 minutes on a really good Seattle team. Could he get into an elevated position and produce more? Could he still have that high end production five-on-five? He's played bumper on the power play; he has a really good release as a right shot. So, I think those in that scenario that we certainly tried to address.
"(Johnny) Beecher is another player that will hopefully push, Marc McLaughlin has played both center and wing and (Georgii) Merkulov, who is also one who has had another good first year pro. So, they can pin their ears back and come in and take the job and move the pieces around as we see."
Let's project what the Bruins' lines and pairings look like right now, following the first five free agent signings made over the weekend. For the purposes of this exercise, we are excluding Patrice Bergeron and David Krejci. If either one announces he is returning, we'll work up new projections.
Forwards
Brad Marchand--Charlie Coyle--Jake DeBrusk
James van Riemsdyk--Pavel Zacha--David Pastrnak
Jakub Lauko--Trent Frederic--Morgan Geekie
Milan Lucic--Patrick Brown--A.J. Greer
Other options: Marc McLaughlin, Fabian Lysell, Johnny Beecher, Georgii Merkulov
Center is the most interesting position on the roster if Bergeron and Krejci don't return. Coyle and Zacha played very well as the top two centers in Games 3 and 4 of the last season's first-round playoff series against the Florida Panthers. But that was a pretty small sample size. In an ideal world, the Bruins would keep Coyle as the third-line center, where he can feast on inferior competition. He's not a No. 1 center, but the Bruins might not have a choice unless they can swing a trade for someone like Calgary Flames center Elias Lindholm or Winnipeg Jets center Mark Scheifele.
Marchand and DeBrusk played 500 minutes together during 5-on-5 action last season, and the Bruins outscored opponents 27-14 during that ice time, per Natural Stat Trick. Of course, most of those minutes included Bergeron at center on that line, but the chemistry and experience Marchand and DeBrusk have together makes keeping this duo intact a smart idea.
Van Riemsdyk could play left wing on the second or third line, but given his impressive net-front ability and willingness to fight for inside ice, he makes the most sense next to Zacha and Pastrnak. JVR isn't as talented as Bertuzzi, but he can fill that same net-front role on this line.
Frederic, assuming he re-signs as an RFA, could slide over to center. He is a natural center, but given the great depth the Bruins have had down the middle since he was drafted in 2016, he's always played on the wing. Now is his chance to play in the middle and build off the career year he enjoyed in 2022-23 when the 25-year-old scored 17 goals with 14 assists. A checking line of Lauko, Frederic and Geekie has the potential to be pretty exciting to watch with its pace and physicality. They aren't shy about going to the dirty areas of the ice to win puck battles and score goals.
The fourth line has the potential to be interesting as well. Brown brings a lot of the same skills as Tomas Nosek, who filled the center spot on this line last season. Brown won an impressive 53.9 percent of his faceoffs with the Philadelphia Flyers last season, while also playing 1:19 of penalty kill time per game.
"Patrick Brown is another really good, detailed player. He kills a lot of penalties," Sweeney said Saturday.
Lucic and Greer make the most sense as the fourth-line wings, although we could see someone like Marc McLaughlin slide into the right wing spot.
A couple young players could push for roles, too, especially if they have a strong training camp and preseason. Fabian Lysell, who was Boston's 2021 first-round pick, shows great potential as a potential top-six winger. But the B's should take their time with Lysell, especially after he suffered a concussion playing for the Providence Bruins in the AHL playoffs last season.
Defensemen
Matt Grzelcyk--Charlie McAvoy
Hampus Lindholm--Brandon Carlo
Derek Forbort--Kevin Shattenkirk
Extra: Jakub Zboril
Losing a player of Orlov's caliber is tough. He was a good playmaker with 21 assists in 30 games (including the playoffs) with the Bruins after they acquired him via trade in February. He also had enough versatility to play on the left or right side of any pairing. The departure of Connor Clifton shouldn't be overlooked, either. He tallied a career-high 23 points last season and made huge strides defensively.
But despite these losses, the Bruins' depth on the blue line remains strong.
They still have two No. 1 caliber defensemen in Charlie McAvoy and Hampus Lindholm. McAvoy is a top-seven player at the position with two top-five finishes in Norris Trophy voting on his resume. Lindholm is coming off a season in which he posted a career-high 53 points and finished fourth in Norris voting.
Grzelcyk and Forbort were potential trade candidates heading into the offseason as players on expiring contracts, but they're still on the roster. Grzelcyk drives puck possession and scoring chances at a high rate during 5-on-5, and his chemistry with McAvoy is fantastic. Forbort brings much-needed snarl to the back end and is a very good penalty killer.
Shattenkirk is the most likely candidate to fill Clifton's spot on the right side of the third pairing. Zboril is in the mix, too, and could slide in on the left side of the third pairing if Grzelcyk or Fobort are traded.
Goaltenders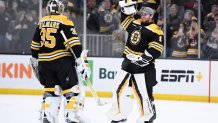 Linus Ullmark
Jeremy Swayman (RFA)
It looks like the Bruins are running it back with the Ullmark-Swayman tandem, which isn't a bad outcome in the slightest. After all, this duo won the William M. Jennings Trophy last season for allowing the fewest goals. Ullmark also won the Vezina Trophy after leading the league in wins, save percentage and GAA. Swayman finished fourth in both save percentage and GAA.
Swayman still needs to be re-signed. He's a restricted free agent, and the Bruins could do a two or three-year bridge deal with him. Swayman could also opt for a one-year contract and look to cash in with a larger payday next summer when the salary cap is expected to rise quite a bit.
What's the latest on Swayman and the goaltending situation overall?
"(Swayman has) been very consistent about where he wants to play hockey. I don't see why he wouldn't be playing hockey here now and moving forward for a long time," Sweeney said Saturday. "This is a really good young goaltender. We are excited about having him and Linus. It kind of solidifies, you know, takes away the guesswork of whether or not we have to address another need, that's for darn sure.
"We feel very comfortable and want to take another step. We want to see both of them take another step, that's God's honest truth. Our hockey club, you know, peace of mind for 82 games was pretty darn consistent. And you know what? We just didn't do what we wanted to do and hope to do that in the playoffs. And we have to learn and grow. Jeremy is part of that."
The Bruins could still trade Ullmark and his $5 million cap hit, but a bunch of teams that entered free agency needing a goalie already have made a move at that position. Salary cap space is also pretty limited around the league right now. It wouldn't be surprising if the Bruins kept their goalie duo intact for next season, and that's probably their best path to being a contending team, anyway.