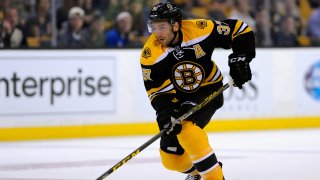 BOSTON – The Bruins are mired in their worst slump of the Bruce Cassidy era in Boston right now with eight losses in their last nine games, and lowered level of play that's been going on for a month now. The latest transgression was a 4-3 overtime defeat at the hands of the Nashville Predators on Saturday night where the Bruins were cruising with a 2-1 lead before giving up a pair of goals in 35 seconds in the third before once again losing in the extra session.
Cassidy took a rare timeout in the third period after the two goals allowed suddenly erased their one-goal lead, and gave a glimpse into the B's current state of mind while explaining his message on the bench during a time of stress.
"I think our guys are sick of losing, to be honest with you, so I think they were going to push no matter what," said Cassidy. "But we just wanted to make sure we just took a deep breath. Those are tough calls because we knew there was a game timeout coming and you want to save it, but I just felt that maybe we need to reset.
"I don't see a negative in the room in terms of blaming each other or lack of effort in practice, lack of compete to come back. I don't see that. But I just see that they're getting frustrated with not being able to get into the winner's circle. Especially with these overtimes and two one-goal games in Washington and Tampa, better efforts [from the team] haven't resulted in wins."
LIVE stream the Celtics all season and get the latest news and analysis on all of your teams from NBC Sports Boston by downloading the My Teams App.
Amazingly the Bruins still hold a nine-point lead in their division despite the 2-4-4 record over their last 10 games, and the massive cushion they'd built up in the Atlantic Division is allowing them all sorts of time to sort things out.
So, there is no reason to panic for a Black and Gold group that's basically led their division all season and was considered one of the NHL's best all season before hitting their current roadblock.
That's something Patrice Bergeron was preaching postgame after almost single-handedly willing the B's to victory with a pair of goals in the OT loss, including a score in the final two minutes that tied the game with the goaltender pulled.
"You can't just enjoy it when things are good and then when things are bad you jump ship. That's too easy," said Bergeron, who finished with the two goals, eight shot attempts and 16-of-27 face-off wins in 21:35 of ice time in the OT loss. "It's a long season. Hopefully these things make you stronger. I think that's when you have to be behind each other, support each other and find ways [to win].
"I wouldn't want to do it with a different group. I enjoy coming to the rink every day and putting in the work. That's the challenge that we're facing. It's the urgency we have to find and I wouldn't change that is where we're at. It's a long season and we've got to look at the positives while looking at the challenge in front of us."
The only thing that's going to alleviate the frustration is getting a win no matter what the circumstances. 
The Bruins have one more chance ahead of the three-day Christmas break with Monday night's home date against the Washington Capitals. The Capitals have already dealt the B's a couple of losses this season and are the team's longtime kryptonite.