The Boston Bruins' offseason was a lot longer than many expected after they ended the 2022-23 regular season with the most wins and points in NHL history.
A first-round playoff exit to the Florida Panthers, highlighted by a Game 7 loss in overtime at home, was absolutely stunning. The roster, as expected, underwent significant changes due to salary cap constraints.
Despite the roster turnover in the offseason, expectations remain quite high for the B's entering their centennial season.
"We feel pressure from our fan base virtually every day to try to improve our club," Bruins CEO Charlie Jacobs said Monday. "That doesn't change from season to season. The expectation is that we deliver a team that can at least makes the playoffs. And how's the old saying go? It's not necessarily the best team that wins the Stanley Cup, but it's the team that's playing the best hockey that wins the Stanley Cup, and that was certainly true last year.
"Again, the pressure, the expectation, we're the Boston Bruins, we're an Original Six team, we're celebrating our 100th anniversary. I think everyone here understands the gravity of the opportunity, and the gravity of what we have in front of us for this upcoming season."
Let's look at the biggest reasons why the Bruins will/won't win the Stanley Cup this season.
Reason they will: Elite defense
The Bruins lost a lot of offensive firepower in the offseason (more on that below), but one aspect of their team that's largely remained the same is the blue line and goaltending.
The only defenseman who played regular minutes last season and left in the summer was Connor Clifton. Clifton usually played on the right side of the third pairing. He will be replaced by veteran Kevin Shattenkirk, who signed with Boston in free agency.
But other than that, the blue line returns intact. Charlie McAvoy is a top five defenseman in the league. Hampus Lindholm is a No. 1 defenseman himself and finished fourth in Norris Trophy voting last season. Matt Grzelcyk does a great job driving puck possession and generating scoring chances, especially when he plays with longtime partner McAvoy. Brandon Carlo won't provide a ton of offense, but he's a steady presence defensively and kills penalties. Derek Forbort is one of the key components of a Bruins penalty kill that ranked No. 1 last season.
Speaking of the PK, shutting down opposing power plays has been one of the Bruins' primary strengths in recent years. Here's where their penalty kill has ranked since 2016.
2016-17: 1st
2017-18: 3rd
2018-19: 16th
2019-20: 3rd
2020-21: 2nd
2021-22: 9th
2022-23: 1st
And now here's where Boston ranked in goals allowed during that same span:
2016-17: 9th
2017-18: 4th
2018-19: 3rd
2019-20: 1st
2020-21: 4th
2021-22: 4th
2022-23: 1st
There's no reason why the Bruins can't finish top five in goals allowed again in 2023-24. They have one of the best blue lines and the best regular season goalie tandem in the sport. This is a great foundation for success and gives them a chance to win a ton of games again.
If top prospect Mason Lohrei makes his NHL debut this season, the defensive corps could get even stronger.
Reason they won't: Playoff goaltending
The Bruins led the regular season with a .928 save percentage in 2022-23, far above any other team. Linus Ullmark won the Vezina Trophy after leading the league in wins, save percentage and GAA. Backup netminder Jeremy Swayman ranked No. 4 in both save percentage and GAA.
Boston entered the 2023 Stanley Cup Playoffs as the title favorite in large part because of their goaltending. And then, inexplicably, the goaltending cratered and it cost the B's their season.
Sure, Ullmark was clearly not 100 percent healthy in the Panthers series. Swayman playing Game 7 after not having started a game in almost three weeks was a tough spot for him. But there's no question the goaltending had to be better and was pretty lackluster despite the circumstances.
Ullmark has a .888 save percentage and a 3.54 GAA in eight playoff starts with the Bruins. Those stats are far worse than his regular season numbers of a .928 save percentage and 2.14 GAA. Eight games is a small sample, but until Ullmark shows he can be a quality postseason netminder on a consistent basis, there will always be some doubt over whether he can be a No. 1 on a title contender.
Swayman's playoff stats -- .901 save percentage and 2.74 GAA in five appearances -- aren't amazing, either. Again, it's a really small sample, but he's 0-2 in Game 7s and 0-2 on the road in that span.
Recent Stanley Cup champions such as the Avalanche and Golden Knights have shown you don't need a top 10 goalie to win a title. So it's not like Ullmark or Swayman have to stand on their heads for two months. But they do need to play a lot better in April and May, and until we see that, playoff goaltending will be considered a weakness for this team.
Reason they will: Young centers outperform
The Bruins lost their No. 1 and No. 2 centers in Bergeron and Krejci, respectively, in a single offseason. Replacing those guys will be difficult, but there are reasons to be optimistic about Boston's depth and talent down the middle.
Pavel Zacha is coming off his best season as an NHL player after setting career highs with 21 goals and 36 assists. He moves over from left wing to center on the second line with David Pastrnak. Zacha and Pastrnak have tremendous chemistry, and there's no doubt the former No. 6 overall draft pick still has another level or two to reach offensively.
Matthew Poitras was the star of training camp and the preseason. The 19-year-old prospect impressed with his production (three goals, two assists in five games), poise with the puck and compete level. He made the Opening Night roster and could begin in a top-six role. He's even drawn comparisons to Leafs star Mitch Marner from Bruins captain Brad Marchand. Playing a huge role offensively is a lot to ask of Poitras, but it wouldn't be shocking if he remains in Boston the whole season and produces.
John Beecher appears to have won the fourth-line center job. The 2019 first-round pick brings plenty of size, smooth skating, penalty killing, faceoff ability and some offensive punch to the role.
Between Zacha (26 years old), Beecher (22) and Poitras (19), three of the Bruins' top four centers are all pretty young. Charlie Coyle is the only longtime vet in the group at 31 years old.
How well these young centers perform could make or break the Bruins' 2023-24 season, but there's a lot to be excited about with this group.
Reason they won't: Not enough scoring
If the centers mentioned above don't produce, the Bruins could be in trouble.
The Bruins were No. 2 in goals scored (199) at 5-on-5 last season, No. 12 in power play goals (61) and No. 2 in all goals (301). They had five players score 20-plus goals, including David Pastrnak's 61, which ranked second behind Connor McDavid's 64 in the Rocket Richard Trophy race.
A total of 11 players tallied double-digit goals for the B's. Four of those 11 players -- Patrice Bergeron, David Krejci, Taylor Hall and Nick Foligno -- are gone. If you add up all of the goals from players who departed in the offseason, it comes out to 102 of the team's 301 scored, or about a third. That's a lot of offense to lose in one summer, especially when the team couldn't make any major additions due to the salary cap.
This puts a lot of pressure on guys like Brad Marchand, Jake DeBrusk and Pastrnak to have elite offensive seasons. It also means that an injury to either one of these players also has the potential to significantly hurt Boston's scoring output.
There are a few paths to the Bruins being a top 10 scoring team again. DeBrusk could score 35-40 goals if healthy for a full season. Pastrnak could hit 60 again. Poitras could drive offense as well as Krejci did a year ago.
It's not like the Bruins won't score many goals, they just don't have anywhere near the offensive depth we saw last season.
Reason they will: There's still a ton of talent on this roster
We talked about all the offseason departures, and those players won't be easy to replace. But take a moment and look at the roster -- there's still a lot of impressive talent.
The Bruins have the league's best all-around left wing in Marchand. Pastrnak was a Hart Trophy finalist who finished second in goals scored last season. There are two Norris Trophy candidates on the blue line in Lindholm and McAvoy. There are two Vezina Trophy-caliber goalies on the roster in Ullmark and Swayman.
For the first time in a long time, there are young prospects ready to make a real impact, including Poitras, John and Lohrei. Other young players such as Trent Frederic, Zacha and DeBrusk have more to give, too. Fabian Lysell could even make his debut at some point this season. Providence goalie Brandon Bussi could give the Bruins a few games in net if Ullmark or Swayman miss time with injury.
All of this talent is one reason why many experts and analytics models still predict the Bruins are going to make the playoffs and even hit the 100-point mark again.
Reason they won't: Road to the Cup is too tough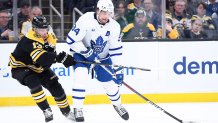 The Eastern Conference is absolutely loaded. We said this last season, too, and it got even tougher over the summer. Seven of the top 11 teams in the 2024 Stanley Cup title betting odds are in the East, including the top three (Hurricanes, Devils, Leafs in that order).
The Atlantic Division will again be a slugfest. The Toronto Maple Leafs are a legit Cup contender. The Tampa Bay Lightning are older and being written off, but beating them four times in a best-of-7 playoff series will still be difficult. The Florida Panthers have a bunch of injuries to key players to begin the season, but we know they are tough to play against. The Ottawa Senators and Buffalo Sabres are primed to take the next step and reach the playoffs after barely missing last season. The Detroit Red Wings spent a lot of money in free agency and could be frisky, too.
The Metropolitan Division also is pretty stacked. The Carolina Hurricanes, just like last season, are a popular preseason Stanley Cup pick. The New Jersey Devils and their incredible young core are getting plenty of praise as well. The New York Rangers and Pittsburgh Penguins remain dangerous.
The Bruins probably will have to beat three of the top five or seven teams in the league just to reach the Stanley Cup Final. It's going to be a grueling road, and that's if Boston can even get out of the first round.