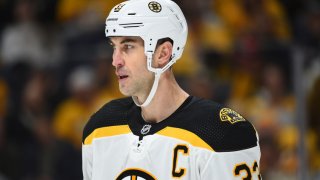 What happens when the tallest and shortest players in the NHL go head-to-head?
An awesome photo is taken.
Boston Bruins defenseman Zdeno Chara is the tallest player in league history at 6-foot-9. Columbus Blue Jackets forward Nathan Gerbe is among the shortest players in league history at 5-foot-4. At one point in Tuesday night's game at Nationwide Arena, Chara and Gerbe battled for a puck, and the situation made for a fantastic picture that perfectly illustrated the difference in height between the two players.
LIVE stream the Celtics all season and get the latest news and analysis on all of your teams from NBC Sports Boston by downloading the My Teams App.
Gerbe, following the Blue Jackets' 3-0 win over the B's, couldn't resist having a little fun at his own expense with the following tweet:
Gerbe has overcome the odds and enjoyed a solid pro career. He's in his 10th NHL season and has scored 61 goals in 406 career games.
Chara has used his tremendous height and reach to his advantage throughout a career that one day will be honored in the Hockey Hall of Fame.