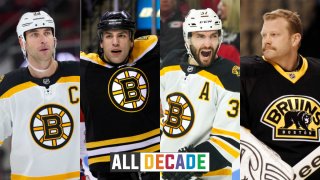 Over the course of the last decade, the Boston Bruins have routinely been among the NHL's best teams. They've made three Stanley Cup runs and while they only managed to capture the Cup once, their ability to get there frequently speaks to the talent they've had on their squad.
The Bruins have routinely had players up for major awards across hockey. Tim Thomas and Tuukka Rask have won the Vezina Trophy. The Bruins are the only team to have two different goalies win that award in the past 10 years. 
Patrice Bergeron is always in the Selke trophy discussion, and he's won four over the course of the past decade. That's pretty remarkable and definitely speaks to the two-way impact he has had during his NHL career.
But beyond the hardware, the Bruins have had plenty of excellent individual seasons. They've had a number of 30-point seasons. Brad Marchand logged the second100-point season by a Bruins player this millennium.
And who could forget the fantastic efforts that the Bruins have had on defense throughout all of this as well?
Here's a look at the 10 best individual seasons of the past decade for a Bruins team that has had quite a lot of success.