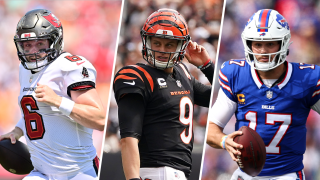 It's been a wild Week 2 in the NFL.
From overtime games to last second victories, the early window provided fans with plenty of exciting action.
Some teams are rolling, while others are still struggling to start their season.
Here are some winners and losers after the early and afternoon slate of Week 2 in the NFL:
WINNER: Bills bounce back with lopsided victory
Reports of the Buffalo Bills' demise were greatly exaggerated.
After an overtime loss in Week 1 to the New York Jets, Josh Allen and Co. bounced back in a big way on Sunday. The Bills dominated in their home-opener, scoring a 38-10 victory over the Las Vegas Raiders.
Allen went 31 of 37 for 274 yards, three touchdowns and, most importantly, no turnovers. He had three interceptions and a lost fumble in Week 1, which put him under fire all week. It's safe to say the Bills are going to be just fine.
LOSER: Several AFC contenders in trouble after 0-2 starts
While the Bills got back on track in Week 2, some other AFC contenders weren't as fortunate. The Cincinnati Bengals and Los Angeles Chargers, both playoff teams last season, dropped to 0-2 after both lost by three points.
For the second straight game, the Bengals had a slow start. It took until late in the third quarter for Cincinnati to score its first offensive touchdown of the season. A second late score by Tee Higgins brought them within 27-24, but they were unable to stop the Ravens on the final drive to get the ball back. Joe Burrow and Co. are now 0-2 for the second season in a row.
The Chargers, fresh off a shootout with the Miami Dolphins in Week 1, once again came up short in a close game. Justin Herbert led his team on a game-tying field goal drive at the end of regulation. Los Angeles got the ball first in overtime, but went three-and-out before the Titans drove down and ended the game on a 41-yard field goal by Nick Folk.
WINNER: Fans of free football
NFL fans were treated to two overtime games on Sunday afternoon: Chargers-Titans and Seahawks-Lions.
As aforementioned, the Chargers tied the game on a field goal at the end of regulation but came up short in the extra period. Ryan Tannehill recovered from his turnover-filled Week 1 performance by playing a clean game at home.
The Seahawks improved to 1-1 after their road win over the Lions. Similar to the Chargers-Titans game, the team that eventually lost the game was the team that forced overtime. Detroit's Riley Patterson hit a 38-yard field goal to force overtime, but Tyler Lockett sealed the game for Seattle with a 6-yard touchdown from Geno Smith.
LOSER: Anthony Richardson exits with another injury after electric start
The Richardson era in Indianapolis has been a rollercoaster so far.
In each of his first two starts, the first-rounder has dazzled with thrilling touchdown runs. But on the other side of the coin, he's also exited both starts due to injury.
Richardson left Sunday's game with a concussion in the second quarter after rushing for two touchdowns on Indy's first two possessions. He finished the game 6 of 10 passing for 56 yards, plus 35 yards and two scores on the ground. The Colts held on to defeat the Texans, 31-20, with Gardner Minshew taking over in relief.
WINNER: Chiefs defense shows out against tough Jaguars offense
Here's something you don't hear often: Kansas City won a game thanks to its defense, not its offense.
Normally, Patrick Mahomes is the catalyst for Andy Reid's squad. He was productive on Sunday -- 29 for 41, 305 yards, two touchdowns, one interception -- but the offensive unit is still a step slow. Travis Kelce did score in his season debut, though.
The Chiefs' defense, getting back Chris Jones, held a high-powered Jaguars offense to just nine points (three field goals). They had four sacks, three forced fumbles and one fumble recovered while stymieing Trevor Lawrence.
LOSER: NFC South skeptics
Entering the season, there was a consensus on the NFL's weakest division: the NFC South. The Buccaneers won the crown last year after going 8-9.
It's still early, but things look different so far this season. The Falcons and Bucs improved to 2-0 on Sunday, as the NFC South became the first division to have two teams with two wins.
The Falcons overcame a 24-12 fourth-quarter deficit to topple the Packers, 25-24. The Bucs, meanwhile, made easy work of the Bears in a 27-17 victory.
WINNER: The New York Football Giants
The Giants pulled off their biggest franchise comeback in the Super Bowl era. They trailed 20-0 at halftime and later 28-7, with all signs pointing to an 0-2 finish against an Arizona Cardinals team not expected to do much this season.
But New York then scored 24 unanswered points to win 31-28 thanks to a late field goal. Daniel Jones threw for 321 yards, two touchdowns, one pick and one rushing touchdown while Saquon Barkley added 63 ground yards on 17 carries and a touchdown.
Barkley's late injury will be a concern for the Giants given they play the San Francisco 49ers next on Thursday, but at least they have some momentum for the road clash.
LOSER: Broncos Country
Nobody is riding in Denver. The Broncos got off to a promising 21-3 start at home vs. the Washington Commanders, including a 60-yard touchdown pass from Russell Wilson to Marvin Mims Jr.
But the second half was all Sam Howell and Washington, as the Commanders rallied and took a 35-24 lead. Denver made it interesting when Wilson completed a Hail Mary touchdown at the death to make it 35-33, but the two-point conversion failed. Wilson ended the game completing 18-for-32 passes for 308 yards, three touchdowns and one pick.
Howell finished with 299 yards and two touchdowns after completing 27-for-39 passes, with Brian Robinson Jr. adding 87 rushing yards on 18 attempts and two touchdowns from the backfield. But while the Commanders are 2-0, the Broncos face the Miami Dolphins next. They could soon be at 0-3 under Sean Payton.
WINNER: 49ers' defensive turnaround
Matthew Stafford was slinging it towards Puka Nacua, Tutu Atwell and Kyren Williams in a solid first half for the Rams that saw them tied 17-17 with the 49ers at the break. The 49ers' defense just had no response for the quick passing game utilized by Sean McVay and Co. to neutralize San Francisco's pass rush.
But eventually the 49ers made the necessary adjustments in the second half and came out looking like the elite unit the league has come to know the past few seasons. Stafford ended up throwing two second-half picks and after a failed 4th-and-1 attempt, San Francisco grabbed the 30-23 road win in SoFi Stadium that was filled with red.
San Francisco allowed just six points in the second half, with three of it coming on essentially a pointless last-second field goal as time expired.
LOSER: Zach Wilson's first start of the season
Wilson got his first full start of the season following Aaron Rodgers' Week 1 torn Achilles injury. But after leading a comeback against the Buffalo Bills, Wilson and the Jets had nothing to offer the Dallas Cowboys at AT&T Stadium.
A 68-yard catch-and-run touchdown from Garrett Wilson in the second quarter that made it 10-7 in favor of Dallas showed promise for New York, but it all went downhill after that. Wilson finished the game completing just 12 of 27 passes for 170 yards, one touchdown and three picks with a run game that never got going between Breece Hall, Dalvin Cook and Michael Carter.
The Cowboys, with Micah Parsons dominating the headlines thanks to his two-sack outing, moved to 2-0. CeeDee Lamb also proved too much to handle with 143 receiving yards on 11 catches despite not logging a touchdown. Dak Prescott completed 31-for-38 passes for 255 yards and two touchdowns.