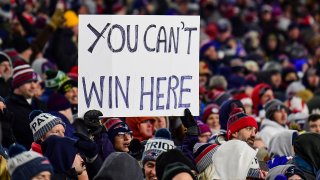 Ding-dong the motherscratching witch is dead!
Finally – after two decades – long-suffering fans in Western New York, South Florida and whatever circle of hell Jets fans call home can poke their heads out from under the bed.
He's gone. Tom Brady is really gone.
Let us bow our heads and recall the carnage.
While Brady was in New England, 26 different men coached games for the Jets, Dolphins and Bills (six for New York; 10 each for Miami and Buffalo).
The Dolphins had 22 different starting quarterbacks, the Bills had 20, the Jets had 17. New England had four – Brady, Matt Cassel, Jimmy Garoppolo and Jacoby Brissett.
Between them, those teams enjoyed 12 trips to the postseason over the past 20 years.
Brady's combined record in 108 games against the Jets, Dolphins and Bills was 86-22.
He went 32-3 against the Bills. Thirty. Two. And. Three. While throwing 70 touchdowns and 25 picks. He went 29-7 against the Jets with 57 touchdowns and 15 picks. And he went 23-12 against Miami with 57 touchdowns and 27 picks.
Seventeen times he authored fourth-quarter comebacks or game-winning drives in the fourth quarter or overtime against AFC East opponents.
He completed 2,228 of the 3,572 passes he threw (62.37 completion percentage) for 25,873 yards with 197 touchdowns and 67 picks. He also caught one pass over that time. Bonus points if you don't have to Google when that happened.
He's been hung in effigy, cursed, lampooned and had sex toys flung at him. He was reviled. He was respected.
Now? He gone.
It's springtime in the AFC East. In theory. Every team except the Patriots has a quarterback selected in the Top 10 in the past three years (Sam Darnold and Josh Allen in New York and Buffalo, Tua Tagovailoa in Miami). With the Bills going to the playoffs twice under Sean McDermott, the Dolphins pulling off a Week 17 win in New England and the Jets going 6-2 in the second half of 2019, all three teams have some momentum going into this season.
But are any of them truly ready to wrest the division from the Patriots now that Brady's gone and the New England defense was hit hard by free agent defections and opt-outs?
For a deeper listen on the state of teams, check out the latest Patriots Talk Podcast with perspective on the Jets from Manish Mehta of the New York Daily News, Dolphins with Omar Kelly of the South Florida Sun-Sentinel and Bills with Matthew Fairburn from The Athletic.  
Meanwhile, here's a quick-and-dirty an AFC East user's guide to the teams not based in Foxboro as we head into a season where the whole division might finish 8-8.
BUFFALO BILLS
Overview: They went 10-6 last year and lost a wild Wild Card Game at Houston. They added enough in the offseason – Stefon Diggs at wideout, Mario Addison on the edge – to have a reasonable chance to challenge in the conference, not just the division.
Weak Spot: Josh Allen. Everyone knows this. But it's worth pointing out that Allen isn't such a liability he's preventing the Bills from winning at all. He's a liability that may prevent them from winning it all. The rest of the team is that good. And Allen, to be fair, is a dual-threat player who is probably on a reasonable arc for a kid who played at Wyoming. But he has some fundamental stupidity to scrub from his game in terms of decision-making, as evidenced by his scatter-brained play at the end of their playoff loss. If he can do that, there's more than enough talent everywhere else for Buffalo to be a big factor.
Strong Suit: They have a few. On offense, it's receiving targets for Allen with Diggs, John Brown and Cole Beasley at wideout, Dawson Knox at tight end and changeup back Isaiah McKenzie. They have a seasoned offensive line and one of the best safety duos in the league with Micah Hyde and Jordan Poyer playing alongside All-Pro corner Tre'Davious White.
Most to Prove: Ed Oliver. We already gave you Allen, so let's go to another first-rounder. Oliver was a handful at the University of Houston but was just OK as a rookie last year. If he bumps up his game and helps the outstanding Jerry Hughes up front, the Bills will be a real problem in the front seven as they already are in the secondary.
Most to Lose: Sean McDermott. It's not like the Bills head coach is gonna get the hook – he got a big extension earlier this week – but the work he's done to position his Bills means expectations haven't been this high in two decades. He got a little excitable last year – his ranting about there being "no room in football" for Jonathan Jones' legal hit on Allen in the first meeting between the Bills and Patriots being one example – but he's done a very good job installing a culture there. Can he take the team to the next level?
Under-the-Radar Key: Brian Daboll. The former Patriots assistant is the offensive coordinator in Buffalo and the one charged with reining in Allen. If he does it successfully, the Bills could be playing well into January.
MIAMI DOLPHINS
Overview: The Dolphins got to have their cake and eat it too. They failed to tank properly in 2019, going 5-11 and playing themselves right out of the No. 1 overall pick. But they still wound up with the player everyone thought would go No. 1 when the college season began, Tua Tagovailoa. And they cleared so much money with the housecleaning they were able to shop heavy in the offseason to bolster a team that seems headed in the right direction under Brian Flores. They doled out nearly $160M in guaranteed money to the fleet of free agents they signed. There are, suddenly, expectations of good things.
Weak Spot: Offensive line. They were worst in the league last year according to Pro Football Focus' grades. They brought in Ereck Flowers to play guard and Ted Karras to play center and used draft capital there as well but they are a work in progress.
Strong Suit: Secondary. They spent a ton on corner Byron Jones and he'll pair with Xavien Howard to comprise what should be an upper-crust tandem. Eric Rowe and Bobby McCain are also at the back end giving Miami the kind of positional versatility Flores no doubt wants to replicate from New England.
Most to Prove: Byron Jones. Kyle Van Noy. Jones signed a five-year, $82M deal with $54M guaranteed; Van Noy signed for 4-51-30. That's a hefty bet by Miami that both players who were so good in Dallas and New England can have their games travel to South Florida and be leading parts in the Dolphins rebuild
Most to Lose: Tua Tagovailoa. How? Well, he has to be able to play better than Ryan Fitzpatrick and we all know by now, when Fitz is good, he's very good. Is Tua, if summoned, going to be able to stay consistent enough to keep Fitz on the sidelines or will Miami need to call on the veteran to put out fires? It's a fascinating dynamic because Fitzpatrick is one of the NFL's great leaders and that's what Tua's strong suit is as well. Can they both lead?
Under-the-Radar Key: DeVante Parker. He had a breakout season last year with 72 catches for 1,202 yards (16.7 YPC) and nine touchdowns. If he can back that up with the same reliability this year, it will open things up for 6-5 second-year man Preston Williams to ascend and blossoming third-year tight end Mike Gesicki.
Patriots Talk Podcast: Mohamed Sanu release illustrates Pats futility at WR | State of the AFC East  | Listen & subscribe | Watch on YouTube
NEW YORK JETS
Overview: Closed 2019 with that 6-2 flourish but the trade of Jamal Adams, the opt-out of C.J. Mosley and the perpetual backseat driving on Gase by the Jets media has cast a bit of a pall over them. They and their future at quarterback Sam Darnold remain enigmatic. Is Darnold the guy who peed his pants against the Patriots after his bout with mono? Or is he the guy that lights it up for stretches of games? And that's just the biggest of a fleet of questions facing the Jets who are the hardest team in the division to pinpoint.  
Weak Spot: Offensive line. Unfortunately, there are a few spots to choose from here. But if they can't block, Darnold can't throw to Denzel Mims, Le'Veon Bell gets stuck in neutral and the domino effect spirals from there. They threw resources at it including first-rounder Mekhi Becton but there's a ton hinging on their performance.
Strong Suit: Skill players. Bell and Frank Gore are the main backs. Talent there. Breshad Perriman and Jamison Crowder along with the rookie Mims are the leading wideouts. Tight end Chris Herndon is a factor. Gase, a very good offensive mind, should be able to get this thing headed in the right direction.
Most to Prove: Quinnen Williams. The second-year defensive tackle was the Jets first-rounder in 2019 and figured to be a game-wrecker. He was solid against the run but not impactful as an interior pass-rusher. As he goes, so may go the Jets defense under defensive coordinator Gregg Williams.  
Most to Lose: Adam Gase. He hasn't done himself many favors away from the sidelines, alienating the mercurial Adams being a prime example, but I am on an island in saying I think he's a good coach. He's running out of time though and as Darnold goes, so goes Gase's future, most likely.
Under-the-Radar Key: Chris Herndon. He had an exceptional rookie year at tight end then played in just one game for the Jets last year. A talented tight end is a young quarterback's best friend. If Herndon can return to 2018 form and exceed it, Darnold will reap the benefits.