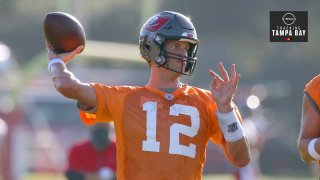 Throughout the Patriots' two-decade run of dominance, other NFL teams have pried New England players away in free agency, hoping that their winning pedigree accompanies them to their new teams.
And while a slew of these players had success in New England, with many winning Super Bowl titles, their résumés also included a very specific intangible: leadership.
So it's no surprise to see a host of ex-Patriots being named captains on their new teams around the league.
In Tampa Bay, Tom Brady was a no-brainer selection as captain. Not only is the GOAT the only player who has won six Super Bowls, he has also fully embraced his new team, leading offseason practices and building chemistry with his new teammates from the get-go.
While Brady was a long-time captain in New England, Nate Ebner never earned that distinction with the Patriots when playing alongside Matthew Slater. However the special teams standout was voted one of the Giants' six captains for the 2020 season.
And then there are the Dolphins.
Miami doesn't just have one or two ex-Patriots as team captains in 2020. Brian Flores' team elected eight team captains and almost half of them played for the Patriots last season before signing with the Fins in free agency.
Kyle Van Noy, Elandon Roberts and Ted Karras were all voted as captains by their new teammates. It's the first time that Van Noy and Karras will serve as team captains, while Roberts was a captain in New England last season.
Many other teams haven't announced their captains for the 2020 season yet, though several other ex-Patriots served as captains across the league during the 2019 season, including Arizona's Chandler Jones, Detroit's Danny Amendola and San Francisco's Jimmy Garoppolo.