Boston Bruins veteran Milan Lucic appeared in court Tuesday morning to face an assault and battery charge and was released on personal recognizance bail.
The Bruins' left wing is charged with assault and battery after his wife reported him to police in the early hours of Saturday morning, saying she had been choked. The court entered a not guilty plea on his behalf at his arraignment, which only lasted about six minutes. A pretrial date was scheduled for Jan. 19, but Lucic will not be required to appear in person.
Lucic did not speak during the hearing, other than to briefly acknowledge the judge.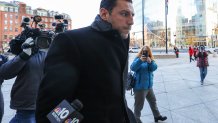 Assistant District Attorney Marc Tillman read the facts of the case from the police report and said he was only seeking personal recognizance bail based on Lucic's record, along with bail conditions including a no abuse order and that Lucic refrain from drinking alcohol for the duration of the case.
Lucic's attorney did not object to those conditions. He did file a motion seeking an unredacted version of the police report, which the judge granted.
Tillman also filed a motion, which the judge allowed, but they did not say what was in the motion.
According to the police report from Saturday's incident, Lucic, 35, was upset over a cellphone and at one point, he allegedly grabbed his wife's hair and pulled her back, telling her she wasn't going anywhere.
Lucic's wife told police that during the night, her husband could not locate his phone after returning to the apartment after a night out. She said he began yelling at her, demanding his phone back, believing she had hidden it. She told him she didn't have his phone and didn't know where it was. That's when the assault occurred.
When asked by police if Lucic had strangled her, she reportedly said no.
Officers said Lucic appeared intoxicated, telling them "nothing had happened" but refusing to explain any further. He was then arrested.
Police said they saw a broken lamp on one of the nightstands inside the apartment and what appeared to be a small amount of broken glass on the floor.
Casa Myrna, a nonprofit organization that advocates for domestic violence victims, warns that abuse is likely to repeat itself when it goes unchecked.
"That means this person is potentially lethal. It means they could be incredibly dangerous. And in most cases, abuse is going to escalate from there," Casa Myrna CEO Stephanie Brown said.
The Bruins announced over the weekend that Lucic is taking an indefinite leave of absence from the team and expressed support for his family.
Although the maximum penalty he faces is 2-1/2 years in prison and a $5,000 fine, NBC10 Boston legal analyst Michael Coyne said it likely won't come to that.
"Since it is a close family member, what often times happens is they reconcile, move to counseling and the witness doesn't testify," he said.
Lucic's future with the Bruins is also in question.
He is a veteran of over 1,300 NHL games with the Bruins, Los Angeles Kings, Edmonton Oilers and Calgary Flames.
Lucic won the Stanley Cup with Boston in 2011 and is back with the team after signing a one-year free agent contract last summer worth $1 million with $500,000 in possible additional incentives.
The Vancouver native has not played since Oct. 21 because of injury. But could he get kicked off the team?
"That's a huge decision for the player, for the family, for the team and for the league. So that's guesswork. I don't know what's going to happen with Milan," said Fluto Shinzawa, who covers the Bruins for The Athletic.