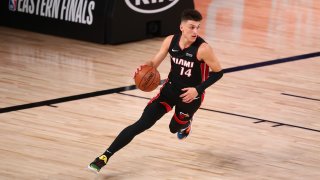 On NBA draft night last year there was a collective moan among the Boston Celtics brass right about the time the Miami Heat used the No. 13 pick to select Tyler Herro.
Knowing they were on the clock right after the Heat, and seeing what he has done for the Heat both during the regular season and during their current playoff series with the Celtics, can you blame them? 
As important as Jimmy Butler has been in closing out games in the fourth quarter for Miami, and how Goran Dragic has been the best overall point guard in this series, "Herro ball" has been one of the more significant, below-the-radar keys to Miami being up 2-1 in this best-of-seven series with Game 4 on Wednesday night. 
The Celtics were very much enamored with the 20-year-old leading up to last June's draft, aware that there was a shot that he might be on the board when it was their turn to select at No. 14. 
But in came Heat team president Pat Riley, sticking it to the Celtics again by not only taking a player Boston had a major interest in selecting but also developing him into a difference-maker whose play may very well spell the end of the Celtics' season. 
Herro has been the supersub of supersubs in this series, tallying a near triple-double in Game 1 followed by strong performances in Games 2 and 3 afterward.
In the three games thus far, he has delivered 15.0 points, 6.0 assists, and 7.3 rebounds per game. 
Even before the Bubble and the NBA season being put on pause, Herro was among the best rookies in the NBA. During the regular season, he averaged 13.5 points, 4.1 rebounds, and 2.2 assists per game while shooting 38.9 percent from 3-point range. 
His play was good enough to earn him a spot on the NBA's All-Rookie Second team as he totaled 115 points -- one shy of tying Golden State's Eric Paschall for the fifth and final spot on the First Team. 
"Great shooter" was how Celtics head coach Brad Stevens described Herro when asked about him recently. But as Stevens continued, there's more -- so much more -- to Herro's game. 
Celtics Talk Podcast: After Game 3 victory, are the Celtics winning this series versus Heat?  | Listen & subscribe | Watch on YouTube
"Can play off pick-and-roll; has many great passes in the playoffs," Stevens said. "Looks more comfortable every time he plays. Looks like he doesn't have much fear at all."
His presence and impact have been felt in all three games of the Eastern Conference finals, including a strong showing in Game 3 when he put the Heat on his back in the second quarter.
That's when he scored 16 of his 22 points for the game, displaying the kind of offensive dominance seldom seen in the NBA from a rookie reserve. 
In that second quarter, Herro went through a stretch in which he seemingly matched one big shot after another made by the Celtics, with one of his own for the Heat. 
In fact, the 16 points scored by Herro in the second were second only to the late Kobe Bryant for the most points scored in a quarter of postseason play by someone 20 years old or younger. 
"He's a heck of a player," Stevens said of Herro.