Before Chris Snow became a model for facing a terminal illness with dignity, and before he became a trailblazing NHL executive, and before he found himself featured in the pages of glossy men's magazines, he was a sportswriter.
Except he wasn't just a sportswriter. He was an "oh my word, how is this kid so good?" sportswriter, a singular talent brimming with ideas and enthusiasm and effervescence, the kind of writer you wanted to resent for his rocket ascent, but simply couldn't through the force of his personality and the quality of his work.
That's the Chris Snow I knew best and the one I'm thinking about today with the shattering news that he is brain dead after going into cardiac arrest on Wednesday. His wife, the former journalist Kelsie Snow, announced that he will remain on life support long enough to donate his organs to further research into ALS, the incurable disease that has already killed his father, cousin, and uncles, and which he has fought for three years longer than his doctors gave him to live.
Knowing this day would inevitably come does not make it any less shocking. Father to two young children, Snow dedicated himself to maximizing every remaining second they had together. His wife chronicled their struggles in a raw and emotional blog, as well as in a podcast entitled, "Sorry, I'm Sad," on living with grief. Both are gut-wrenching in detail, but also universal in theme. They're a lesson in facing overwhelming loss with love and grace, even on the days when all you can muster is sadness and rage.
"Hope, for me, isn't just about fear," she wrote in January. "It's also about understanding and accepting the full scope of what is happening to us and still finding the good in life. It's in that bible verse from Psalms that I love so much: 'Even in laughter the heart may ache and joy may end in grief.'"
So many have written so movingly about the family's struggles in the wake of Wednesday's awful news, so let me tell you a little bit about the Chris Snow I knew.
When the Melrose, Mass., native joined the Red Sox beat in 2005 just a couple of years out of Syracuse, it was among the most competitive in the country. Tony Mazz. Sean McAdam. Dan Shaughnessy. Mike Silverman. Nick Cafardo. Rob Bradford. Alex Speier. Ian Browne. Gordon Edes. Peter Gammons. Some of the best to ever do it, and Chris didn't fear any of them.
What grabbed you was his smile -- wide and bright and inviting and mischievous, with an impish hint of Jack Nicholson or Sacha Baron Cohen. It was the kind of the smile that simultaneously disarmed you personally and alarmed you competitively. What did he know that you didn't?
That smile sheathed a dagger, however, because Snow covered the Red Sox with an edge belying his youth, which players and coaches quickly learned, because he asked the toughest questions without the slightest tremor.
I'll never forget a young Snow leaning over a recalcitrant Manny Ramirez when the latter wasn't speaking to the media and whispering that he needed to man up and stop making his teammates answer for his indiscretions. A superstar nearly 10 years his senior, all Manny mustered in response was a quiet, "OK," but Snow could not have given less of an eff.
"Someone needed to say it," he said with a shrug and of course a smile. He wasn't in this business to make friends.
Had he stayed in journalism, there's little doubt he'd have become a national baseball insider and regular on the MLB Network, like The Athletic's Ken Rosenthal or Syracuse classmate Jeff Passan of ESPN. He possessed that kind of talent.
Instead he made a career pivot that's borderline unprecedented, deciding after two years on the Red Sox beat that he'd rather be Theo Epstein than write about him, joining the Minnesota Wild to begin a two-decade NHL career that eventually took his young family to Calgary.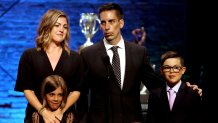 The ALS diagnosis that's congenital arrived in 2019 and one of the first features it claimed was his smile, an indifferent universe acting with cosmic cruelty. As his face drooped, the mischievousness migrated to his eyes, which twinkled. He continued driving to work, continued hitting his kids fly balls, continued doing push-ups, even as his dominant right arm withered and he made do with his left.
I wish to god this story had a happy ending, but that's not how ALS works. He spent six days on a ventilator before Christmas following a bout with pneumonia, during which time his disease progressed opportunistically, making the end less a distant possibility and more a distinct reality, one his wife finally confirmed on Thursday morning when she wrote, "Chris will not wake up."
Even typing the words hardly makes them feel real. It doesn't seem possible to apply them to the Chris Snow I knew, the one with a limitless future in journalism who instead followed a different dream.
That he attacked his pre- and post-illness existence with the same "you only live once" attitude should be a lesson to us all.