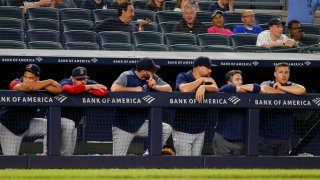 The Boston Red Sox are at the center of yet another sign-stealing scandal.
Several members of the 2018 Red Sox used a video replay room to illegally relay signs to hitters during the regular season, The Athletic's Ken Rosenthal and Evan Drellich reported Tuesday, citing people who were with the team that year.
Red Sox players visited the replay room -- which at Fenway Park was located right next to the home dugout -- during games to determine opponents' sign sequences, per Rosenthal and Drellich.
LIVE stream the Celtics all season and get the latest news and analysis on all of your teams from NBC Sports Boston by downloading the My Teams App.
The players then would relay that sequence to someone in the dugout, who would pass it along to a Red Sox baserunner. The baserunner then could inform the batter of what pitch was coming by using subtle body clues, such as stepping off the second-base bag with his right foot to indicate a fastball and stepping off with his left foot to indicate an off-speed pitch.
The Red Sox allegedly operated this system just one season after Major League Baseball punished them and the New York Yankees for sign-stealing via electronic communication.
MLB will investigate the Red Sox' 2018 system, according to a statement it made Tuesday.
"The Commissioner made clear in a September 15, 2017 memorandum to clubs how seriously he would take any future violation of the regulations regarding use of electronic equipment or the inappropriate use of the video replay room," the statement read.
"Given these allegations, MLB will commence an investigation into this matter."
The Red Sox won a franchise-record 108 games in 2018 en route to a World Series title, but team sources told The Athletic their system "did not appear to be effective or even viable" during the 2018 playoffs.
The Athletic's sources also insisted the Red Sox weren't the only team who had such a system, and that Boston's "cheating" wasn't as egregious as the 2017 Houston Astros' scheme of banging on trash cans to alert players of signs.
It's worth noting Alex Cora was a member of both of those teams, serving as bench coach of the 2017 Astros before taking the Red Sox manager job in 2018.
Cora declined comment on The Athletic's report Tuesday, via MassLive.com's Chris Cotillo.
UPDATE (12:55 p.m. ET): The Red Sox have acknowledged the allegations and said in a statement they'll fully cooperate with MLB's investigation.