Knowing when to let a player go is a talent, and one that not all sports executives possess.
New England Patriots head coach Bill Belichick is a great example. He has, on many occasions, traded or not re-signed players at the right time. It's better to let go of a player a year too early than a year too late.
Don Sweeney has done a pretty good job as Boston Bruins general manager since taking over the position in May of 2015. The trade market, in particular, has been an area of immense success for Sweeney. Another part of his job he's consistently excelled in is knowing which players to let walk in NHL free agency.
It's easy to fall in love with players, but this often gets teams into trouble. There are some exceptions, but teams typically lose out when they pay for past performance. Sweeney has rarely overpaid to re-sign bottom-six forwards. He has not been afraid to let go of veteran defensemen who were beloved by fans.
He did not break the bank to re-sign popular defenseman Torey Krug, who inked a seven-year, $45.5 million contract with the St. Louis Blues after the 2019-20 season. Krug has not lived up to the contract and is 32 years old with four more seasons left on the deal.
Sweeney has found a bunch of good bottom-six forwards in his GM tenure. Very few of them have enjoyed long careers in Boston. Sean Kuraly was not re-signed after the 2020-21 season. He got a four-year, $10 million deal from the Columbus Blue Jackets. Tim Schaller got a two-year, $3.8 million contract from the Vancouver Canucks in the 2018 offseason. Riley Nash joined the Blue Jackets on a three-year, $8.25 million contract that same offseason. Curtis Lazar took his talents to the Canucks last summer with a three-year, $3 million deal. Sweeney also let Jaroslav Halak walk at the perfect time in 2021 after the veteran did a very good job in the backup goalie role for three seasons. Zdeno Chara was not re-signed after the 2019-20 campaign. That was a tough decision, given what Chara means to the franchise, but it proved to be the right one. Chara was no longer a top-pairing defenseman.
None of the aforementioned players made Sweeney look bad for not re-signing them.
Sweeney also has done a good job deciding which players he acquired at a particular trade deadline to re-sign. He gave defenseman Hampus Lindholm an eight-year extension in 2022 a day after being acquired from the Ducks. Lindholm had a phenomenal 2022-23 regular season with a career-high 53 points. He re-signed Taylor Hall a few months after acquiring the left wing from the Sabres. Hall has been a very good middle-six forward in Boston. Charlie Coyle was acquired in the middle of the 2018-19 season, re-signed and has been one of the top third-line centers in the league since. Not every decision to re-sign a player has worked out, but Sweeney has gotten the large majority of them right.
This summer will really test Sweeney's ability to know when and which players to let walk.
The Bruins have 11 players from their Game 7 roster eligible to become unrestricted or restricted free agents this offseason. Boston has a little less than $5 million in salary cap space to work with, per CapFriendly. Several of these players won't be back in Boston next season. The math just doesn't work out. In fact, Sweeney probably will have to trade away a contract (or multiple) and maybe even buy out a player or two in order for the B's to put together the roster they want and get cap compliant for Opening Night in October.
The importance of choosing the right players to re-sign will be critical to maximizing whatever is left of the Bruins' current window to win the Stanley Cup.
There are some tough decisions looming, too.
Nick Foligno is 35 years old. The veteran winger scored 10 goals in 2022-23 after tallying just two in during a rough debut season with the Bruins in 2021-22. He is a respected voice and leader in the locker room. But given his age and role, it's best if the Bruins replace Foligno with a younger, cheaper player. Garnet Hathaway, who was acquired before the trade deadline in a deal with the Washington Capitals, is another bottom-six forward who plays his role well. But like Foligno, replacing Hathaway with a younger alternative is the best course of action.
Tomas Nosek is an excellent fourth-line center. He is fantastic on faceoffs, he plays terrific defensively and he excels on the penalty kill. The 30-year-old veteran has real value and is worth bringing back at the right price. The Bruins also have a few young players/prospects, such as John Beecher, who could fill Nosek's role for less money. Connor Clifton tallied a career-high 23 points in the regular season, but is it worth giving him a raise and a multi-year contract when Jakub Zboril is already on the books for just a $1.14 million cap hit next season?
When it comes to trades, none of the prospects or young players Sweeney has sent packing have enjoyed wildly successful careers outside of Boston. Sweeney has been in the position where most of the trades he's made were to improve the team for a playoff run. This often resulted in trading young players/prospects and/or draft picks for veterans.
This offseason could see Sweeney needing to trade veterans off his roster, thus making it worse.
It's pretty much impossible for Sweeney to re-sign Tyler Bertuzzi or Dmitry Orlov without clearing out salary by trading someone. Heck, the Bruins might need to trade a contract or two just to put a full roster together without re-signing Bertuzzi or Orlov. The salary cap is expected to rise only $1 million to $83.5 million for the 2023-24 season. The Bruins also have to tack on $4.5 million in overage penalties to their salary cap number from Patrice Bergeron and David Krejci's 2022-23 contracts.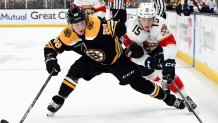 If the Bruins do end up with enough cap space to re-sign Bertuzzi or Orlov, which one would they choose: the top-six forward or top-four defenseman? With the B's having just seven forwards signed for 2023-24, Bertuzzi is the right choice. He proved to be a tremendous fit in Boston after Sweeney acquired him just before the trade deadline. He's also just 28 years old, whereas Orlov turns 32 in July.
Deciding which players to trade for cap-clearing purposes is no easy task.
Hall doesn't kill penalties and he's not always on the first power play unit, but he is a dangerous 5-on-5 scorer and played fantastic in the first round of the 2023 playoffs with a team-leading 10 points in seven games against the Florida Panthers. Getting rid of his $6 million cap hit would give the B's some much-needed cap relief, though. Jake DeBrusk just tied a career high with 27 goals in 64 games and became a better two-way player under new head coach Jim Montgomery last season. But is he worth an expensive long-term extension when his current deal expires next summer?
Veteran defensemen Derek Forbort ($3 million cap hit) and Matt Grzelcyk ($3.69 million cap hit) are entering the final years of their contracts, too. If the Bruins re-sign RFA Jeremy Swayman and view him as the No. 1 goalie of the present and future, they could trade likely Vezina Trophy winner Linus Ullmark and clear his $5 million cap hit from the payroll.
Unlike the young players and prospects Sweeney has commonly dealt at the trade deadline in recent years, moving guys like Hall, DeBrusk, Grzelcyk or Ullmark could actually end up hurting the Bruins if they excel for rival teams. Therefore, it's absolutely paramount for the Bruins that if Sweeney does move one or more of these players (or anyone not mentioned above) that he gets it absolutely right. It's not like the Bruins have an abundance of top-tier prospects ready to assume NHL-level roles, either.
This offseason will present perhaps the toughest challenge of Sweeney's career. He has to figure out how to construct a contending roster with minimal salary cap space and very little draft capital to use in trades.
Choosing the right players to trade and/or let walk in free agency will be critical. Sweeney has often aced these tests before. Can he do it again? The Bruins' short-term success could depend on it.