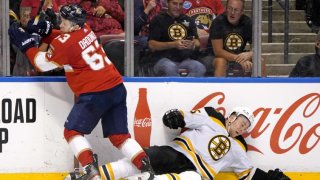 SUNRISE, Fla. — There isn't going to be any additional action taken on an incident from Thursday night's game that might leave B's defenseman Brandon Carlo out of action for a bit.
The young shutdown defenseman was forced out of Thursday night's 2-1 OT win over the Florida Panthers at the BB&T Center after absorbing an Evgenii Dadonov elbow to the head as both players rushed into the corner for the puck.
It remains unknown the extent of Carlo's injury situation with concussion fears obviously there, but Dadonov is not going to face any additional supplemental discipline stemming from the incident, per a league source.
LIVE stream the Celtics all season and get the latest news and analysis on all of your teams from NBC Sports Boston by downloading the My Teams App.
Dadonov was initially whistled for a five-minute major for clocking Carlo in the face with an elbow, but that initial call was reduced to a two-minute minor penalty for elbowing upon further video review of the play in question. The feeling from the league is that the play was accidental in nature and that Dadonov had his elbow raised as he was fishing the puck out of the corner and attempting to pass it up the ice to a teammate.
Dadonov is one of the least penalized players in the league with just 26 PIMs over the last three seasons combined, and the video does show the Panthers forward looking up ice for a teammate to pass toward before advancing into the corner.
By the letter of the law, the officials could have kept the play a five-minute major because there was an elbowing incident that clearly left Carlo bloodied and dazed on the ice after contact.
The Bruins didn't skate on Friday after concluding a successful road swing through Florida where they collected four points against Tampa Bay and Florida, so there won't be any update on Carlo's condition until Saturday at the earliest.
If it is indeed a concussion for Carlo, it would be his second head injury in the last four seasons after a concussion suffered on an Alex Ovechkin hit from behind wiped out his entire postseason during his rookie NHL season.