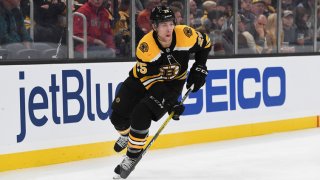 It's been there all season long, but perhaps the elevated play wasn't truly noticeable until both Torey Krug and Charlie McAvoy went down with injuries over the last few games.
After all, most of Brandon Carlo's responsibilities as a shutdown defenseman mean he's doing his job best when he goes unnoticed without much of the glory.
But it's impossible to ignore the way the 23-year-old Carlo has played in the last three games while topping 25 minutes of ice time in each game while getting the upper hand going against elite offensive opponents like Alex Ovechkin and Jack Eichel.
LIVE stream the Celtics all season and get the latest news and analysis on all of your teams from NBC Sports Boston by downloading the My Teams App.
Carlo is winning battles all over the D-zone with his long reach, his 6-foot-5, 210-pound size and the strength that goes along with it, and he's even developed a little bit of a mean streak for an incredibly nice guy off the ice. Couple that with the four goals and 12 points in 40 games this season offensively and the Bruins have a premium shutdown defenseman beginning to reach his ceiling of offensive potential as well.
He's tracking for career highs in both goals and points while on pace for eight goals and 25 points this season and has become much more adept at deciding when to take a risk offensively while still holding defense as the first priority in all situations. Carlo himself knows he's probably playing the best hockey of his career combining his three-plus seasons of experience with the natural physical maturity that comes naturally by entering your mid-20's at the NHL level.
"I love having more responsibility. It really forces you to elevate your game and play to the best of your ability," said Carlo. "I don't get intimidated by those situations, which is a good stepping stone toward being better in those situations. I just enjoy it rather than getting worried or anxious about anything. I feel like I'm continuing forward and growing my game in certain ways. I feel l like I still have a way to go and feel like the ceiling on my game is as high as I want it to be. I'm never going to be content with anything.
"I just want to keep growing my game. I think last year getting my game back on track was a step with that. In my second year I lost a little bit of confidence and I wasn't playing the game the way I knew I could play it. I'm seeing a lot more opportunities on the ice in terms of when to join the rush and when to not join. I see the ice better and recognize that as long as I play a simple game it's the best way for me to be. I think I overthought things a lot in my second year. I have a better grasp on that now."
It may be heard to believe now, but that second year was 2017-18 when Carlo didn't have a single goal in 76 games played, and finished with a modest six points while averaging a career-low 19:14 of ice time per game. Since then it's been onward and upward for Carlo as it just keeps getting better and better with the ideal D-man size and excellent skating ability to go along with it, and the raw offensive skills to make him an effective offense producer as well.  
He doesn't block as many shots as Charlie McAvoy (who leads the team with a whopping 76 blocked shots) or throw as many hits as Connor Clifton, who is third on the B's with 85 registered hits, but Carlo plays good, hard, old-fashioned defense where he extinguishes plays before opponents even get around to shooting the puck.
In the fancy stats world, they call that shot suppression — and Carlo is one of the best.
It's no stretch to say Carlo is playing the best hockey of his career while building off a breakout spring during Boston's run to the Stanley Cup Final. As Torey Krug said best, his defense partner is beginning to develop a little swagger in addition to the fundamental parts of his tough, competitive game that play so well once the Black and Gold get to the postseason.
"In the playoffs last year [Carlo] was pretty damn good," said Krug. "I would say that right now he's right up there. For him it's exciting that he sees with Charlie and me both out that he's going to play a few more minutes and he's going to play in every situation. If he makes a mistake [during a shift] then he's probably going to jump over the boards again [quickly] because he's such an important part of our team and a great player. He's developing a swagger and that's what guys from the bottom of our lineup to the top really need in order to be successful."
When it comes down to it, Carlo has developed into a first-round kind of talent that the B's managed to get in the second round, a pick that has in some ways saved their 2015 NHL Draft class from being an out-and-out disaster. They may have missed with Jakub Zboril and Zach Senyshyn in the first round, but they hit a top-of-the-second-round bullseye with Carlo. And he also gives the Bruins a very different kind of defenseman than the smaller, puck-moving types like Torey Krug and Matt Grzelcyk while also handing the B's a big-bodied shutdown D-man who will still be around to stop opponents when 42-year-old Zdeno Chara opts to someday hang up his skates.
Carlo has been this good all season, but maybe everybody is noticing now because injuries have hit Boston's back end and the youngster is seizing the opportunity to show just how much his game has elevated over the last calendar year.
"His first year I always look at and thought he was excellent, but some of that had to do with age and where he was in his career. Our expectations were a little lower and he was in a shutdown role every night and scored five or six goals," said Bruce Cassidy. "But I think all-around [he's playing his best hockey this year]. He seems to have more confidence with the puck and he's getting over the bad shifts much more quickly. I think this is a big step for him. Charlie [McAvoy] goes out and this is one of the things that makes our team so good. It's the next man up.
"A guy gets a little more ice time and takes advantage of it. That's the sign of a team that's got good players on it that can go the extra mile when given the opportunity. The extra responsibility hasn't fazed him. In fact, he's relished it. That's the sign of maturity and confidence."
This mature, confident Carlo continues to be a difference-maker for the Bruins and the last three games with a B's back end in disarray has been a picture-perfect example of that.