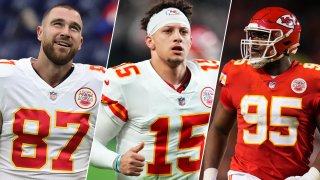 The Kansas City Chiefs are getting comfortable in their role as NFL frontrunners.
The No. 1 seed in the AFC has won seven straight AFC West crowns and has hosted the last four conference championship games.
With that type of resume, the question has begun to inevitably brew: Where does Kansas City sit amongst the greatest dynasties in NFL history?
One Super Bowl win during the Patrick Mahomes-Travis Kelce-Chris Jones era certainly doesn't blow away your average football fan, but Kansas City enters as 8.5-point favorites against the Jacksonville Jaguars in the NFL Divisional Round on Saturday -- the 14th postseason game in a row in which the franchise will play the role of the favorite.
That's a historic number from the people who perpetually deal in numbers (oddsmakers).
While being a favorite in Las Vegas doesn't necessarily translate to gridiron domination, the consistency in which Kansas City has returned to the playoffs -- as one of the conference's top four teams -- is worth examining.
Sure, another Super Bowl is the only thing that will truly solidify Andy Reid's reign in Kansas City as being worthy of living in or around the same sphere as say, Bill Belichick's New England Patriots or Bill Walsh's San Francisco 49ers. However, the Chiefs have done nothing but win since 2016 posting double-digit victories for seven consecutive regular seasons.
And yes, they're the only team to do that over that stretch, which eliminates the 31 other NFL franchises from presenting any sort of alternative case.
Perhaps more important, though, is the Chiefs' playoff resume. Despite recent losses in  Super Bowl 55 to the Tampa Bay Buccaneers and last year's AFC Championship Game to the Cincinnati Bengals, Kansas City remains the odds-on favorite to hoist this year's Lombardi Trophy, a sign that they are likely to be the favorite in any additional game played beyond Saturday's affair with the Jaguars.
If they do win against Jacksonville and are listed as 2023 AFC title game favorites, then it would mark the 15th straight postseason contest these Chiefs will have the inside track on their opponent. Barring a crazy injury, Super Bowl 57 will likely make it 16 straight games for Kansas City.
What does it all mean? It's difficult to say.
Mahomes won't ever usurp Tom Brady as the NFL's GOAT and Reid will never be Belichick or Walsh. That much is certain.
But, the Chiefs are undeniably good. And they are the best franchise in the NFL right now, and have been maintained that stature for several years.
Top dynasty in NFL history? No, not yet. But these Chiefs are in rarefied air against the Jaguars this weekend. Keep winning, and they might find themselves immortalized with other legends of the game.
Only time will tell.